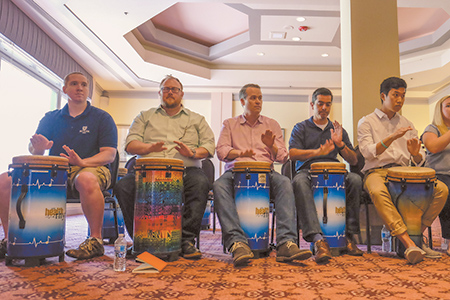 Attendees at the Indianapolis Symphony Orchestra's Art of Leadership workshop don't have to suffer through a PowerPoint presentation. They aren't saddled with worksheets filled with data, and they aren't fed mnemonic devices to memorize ("The L stands for, 'Leave me alone and let me get back to the office …'").
Instead, Art of Leadership participants walk into the Wood Room of Hilbert Circle Theatre to find a "U" of chairs, each with a percussion instrument nearby. After a half hour of getting to know how the ISO works and gaining insight into the multifaceted role of its artistic director, the anticipated moment arrives, and participants create music—of sorts.
It's all part of a unique program that makes use of the state's largest arts employer as a metaphorical guide for any business trying to corral a workforce into achieving common goals. (The program also is the subject of the debut episode of The IBJ Podcast, which appears below.)
That's not a symphony's usual role. But Beth Outland, ISO's vice president of community engagement and strategic innovation, said the workshop gives the orchestra "a different point of entry" into community and audience outreach.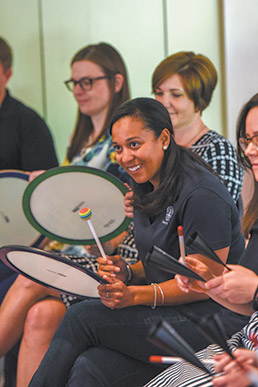 Vanessa Parris was among the Butler University MBA students in the training session. (IBJ photo/Eric Learned)
The program's roots go back to 2006, when Jerry Toomer, a human resources executive with Dow Chemical Co. and its Dow AgroSciences unit, invited Outland to speak to a group about the symphony's leadership and how it operates.
After hearing Outland talk with knowledge, passion and insight, he suggested that the ISO develop a more formal program and steered Outland toward Dick Scott, senior director of global leadership development at Eli Lilly and Co., for guidance
Scott was looking for a way to put his company's emerging leaders into different situations than they were used to in the Lilly workplace, with the goal of helping them better understand their own leadership styles and those of others.
With Lilly paying for the testing of the program with its employees, Outland developed the workshop over about a year. It was a hit, and the pharmaceutical giant has continued to be one of the program's biggest clients. Lilly contracts for about five workshops a year.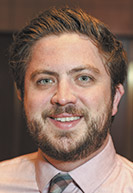 Armstrong
Each workshop is about 2-1/2 hours. Co-facilitators Outland and David Armstrong, ISO director of audience services and events, run the first half, in which they demonstrate various leadership styles as participants try their hands—literally—at coming together as a unit to deliver a piece of music.
Armstrong's first approach is authoritarian, with the mandate that, in five minutes, he will turn the group into a tight ensemble. His instructions are specific and to the point. His second approach is more inclusive, addressing and responding to the doubts and concerns of the group. For the third piece, he grants more freedom to the participants to create.
Each attempt produces something a bit different. And while it might be easy to say one leadership style stands out as better than the others, that isn't the case here—as evidenced by responses from individuals when asked what worked best for them. Some prefer the specific and clear goals. Others like the warmer, more nurturing approach. Still others appreciate the freedom to create without a solid goal.
Message: Different workers respond to different kinds of leadership. The goal is to figure out how to bring them together for a common, unified purpose.
Like a good conductor.
The sessions usually are populated by employees of a single client, but the May event was a conglomeration of Butler MBA students, folks from Purdue University, a representative of Kiwanis International, someone with the National Institutes of Health, and more. Some clearly took joy in the process. Others were a bit more reserved.
But they all played.
For the second half of the program, the group migrated to the stage of Hilbert Circle Theatre. There, the participants took seats around five musicians (four ISO full-timers and a regular sub).
In addition to getting a rare, up-close chance to hear top-notch musicians playing, the group was shown by example how a conductor effectively—or ineffectively—harnesses the talents of so many individuals. And a few volunteers got a chance to try conducting firsthand.
Message: Effective leaders should respect the expertise of their workforces.
Like a good conductor.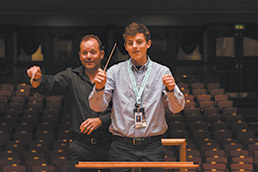 Richard Graef, assistant principal French horn player, shows Christopher Jones how to conduct. (IBJ photo/Eric Learned)
The conductor indulges a battery of in-the-moment suggestions by the players, thus wasting time and losing focus while trying to please everyone. The conductor belittles a player in an effort to get her on track, thus alienating the entire team. The conductor speaks too vaguely, thus confusing rather than enlightening.
The lessons seem to sink in with the participating leaders, without the need for underlining.
Samantha Wolfe-Taylor, from the IU School of Social Work, said her biggest takeaway was that, "You have to have flexibility and an appreciation for diversity in any work environment."
"We get stuck in our-way-or-the-highway and it's important to realize that people learn in very different ways and to pay attention to that," added Candy Arbuckle Schulze, an accountant studying in the Butler MBA program.
In addition to affecting participants' views on leadership, the program helps with audience development.
"There are people who I will see later at concert, who say, 'I just had to come back,'" Outland said. "Or they previously had been to Yuletide Celebration but now they want to see how Krzysztof [Urbanski] works. I've gotten calls from our development department saying that so-and-so went to the leadership workshop and has now increased their gift."• Read more Innovation Issue stories.
Please enable JavaScript to view this content.