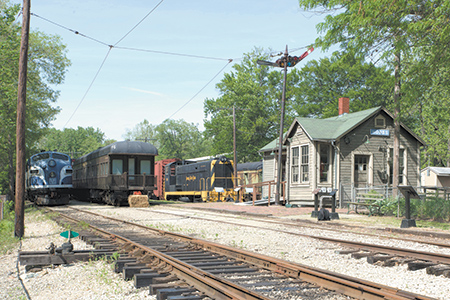 The Indiana Transportation Museum has been given an extension on its eviction notice.
A judge said Thursday that he'll decide by the end of June how much time the museum has to move from its longtime home at Forest Park in Noblesville.
The museum filed suit in Hamilton Circuit Court in early May against the city of Noblesville and the Hoosier Heritage Port Authority, seeking a preliminary injunction to delay eviction from Forest Park, where it has been located since 1960.
Noblesville had given the museum a June 1 deadline to move out after the city chose not to renew its lease with the museum, but transportation museum leaders argued that timeline wasn't reasonable. The museum requested 18 months to two years to allow it to safely move and preserve its equipment.
Museum leaders said the city planned to take possession of any remaining equipment left in the park after June 1, a claim the city said isn't true. 
The museum has a memorandum of understanding to move to Logansport, about 60 miles from Noblesville. It will take time to safely move and preserve its 78 historic train cars and engines, several buildings including the historic Hobbs Station and more than three miles of track and switches, leaders argue.
Following a hearing that spanned Wednesday and Thursday mornings, Hamilton Circuit Court Judge Paul A. Felix said he'd make a ruling in the case by June 29. The parties involved have until June 13 to submit additional information for him to consider before he makes a decision. 
In the meantime, the museum can stay at Forest Park and continue removing equipment and cleaning up, transportation museum chair John McNichols told IBJ.
"This is a temporary relief for us," he said in written comments. "We think we demonstrated to the court immediate eviction, which could benefit the next supplier, is unreasonable." 
The judge laid out conditions for the museum to follow, said Noblesville city spokesman Robert Herrington, which include steps for handling old train cars that may contain asbestos and keeping the city apprised of its progress to vacate the park. 
Herrington said the city doesn't want to drag the issue out any longer. The city is willing to give the museum the time it needs to relocate, but 18 months to two years isn't reasonable. Experts leaders have consulted say it shouldn't take two years for ITM to move out, he told IBJ. 
"Forest Park is a gem in Hamilton County. …We would have options for expanding the parks amenities," he said. "We're looking forward to seeing this come to a conclusion."
Please enable JavaScript to view this content.