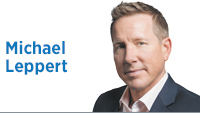 It was Feb. 17, 2016, when Lucius Hamilton III committed a double homicide in Zionsville. He murdered his niece and her young son early that day and then went on the run. His trail led law enforcement to Wabash College in Crawfordsville before police cornered him in a downtown Indianapolis hotel. Hamilton ended the incident by taking his own life there.
Wabash College spent some time on lockdown while the search for the fugitive ensued on campus, where he had been employed. I found out about it from a text message from my son. He was a freshman that year at Wabash. The text read: "I don't know if you have heard from the school but I'm OK."
It scared the hell out of me. It was an incident at a school. Three people died that day. But it was not the same as what happened at Noblesville West Middle School on May 25.
In Noblesville, it was finally our turn. A student, for whatever reason, took a gun into a classroom and started firing. This time, no one died. This time, heroics shined through what has become our cultural scourge to save lives. This time, the shooter is too young to be called a "gunman." He is only 13 years old, too young to be called a man. Too young to even be legally charged for his crimes as a man.
Yes, there are things about this one that are uniquely horrible.
The children of Noblesville West Middle School are our top concern, of course. But they aren't the only victims. Entire families were terrorized by the incident. And by extension, their neighbors, neighborhoods, towns, co-workers suffer for and with them.
We are no longer spectators here. We are no longer immune.
The families I know who choose to raise their families in Noblesville do so, at least in part, because of the sense of safety they feel there. They should feel safe there.
One feature of this horrifying trend America is experiencing today is that Noblesville is almost the prototypical town for such events. Columbine, Newtown, Parkland and Santa Fe all seem like different versions of Noblesville to me. Like the immunity the people in these places once enjoyed from devastating drug addiction, this dread also seems aimed directly at them.
This is intolerable in America. The question really is a simple one for all of us: What are we prepared to do about it? What aren't we?
It is truly a domestic emergency.
I have long held the belief that one of the toughest things about being a parent was letting my children do "dangerous" things. Playing tackle football, jumping off the diving board, learning to ride a bike can cause some degree of worry in the coolest of parents.
I had a recurring nightmare when my kids were younger of them falling down stairs. They never fell down stairs in real life, but I've seen them do it dozens of times in my sleep.
I was never afraid for my boys when they went off to school. Now I fear for the children of others. I have seen that fear in the faces of parents with whom I am close.
My old nightmare has become real. Our communities are falling down the stairs. In my dream, it always happened slowly, as if it were purposely tortuous while I was being forced to watch.
To wake up, I'm afraid everyone will have to sacrifice something. Something more than we already have.•
Click here for more Forefront columns.
__________
Leppert is an author and governmental affairs consultant in Indianapolis. He writes at MichaelLeppert.com. Send comments to ibjedit@ibj.com.
Please enable JavaScript to view this content.