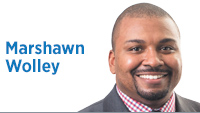 Indianapolis faces a crisis of legitimacy within its criminal justice system that must be resolved to restore our community's peace.
We all agree there are people who have no compunction about harming others. We authorize the police to protect us from these people. In exchange, we agree to cooperate when the police stop us for speeding or other actions that necessitate an intervention to keep the peace. We give up doing whatever we want to do while maintaining our rights in any given interaction with the police. But our social contract has gone horribly wrong.
Our systems have atrophied to the point where conflicts of interests and "get tough on crime" policies that would have been accepted as just part of the process are glaring anachronisms to a time when authority mattered.
So, when the U.S. attorney, like his predecessor, announces the use of federal gun charge offenses, which might have been handled locally, there are questions—and we need answers. We now see clearly the inherent conflict of interest when local prosecutors and local police officers work together to investigate and decide the fate of a police officer who uses lethal force on a civilian. We remember "get tough on crime" policies and their impact on our community. We see the conflicts of interest after a closer, more critical inspection of a system that has failed too many times.
We can't remember the last time a police officer was prosecuted and convicted for killing a black person while on duty in Marion County.
But we remember Michael Taylor. We remember Christopher Gudlow. We remember Mack Long. We remember Aaron Bailey. None of these men received justice.
The black community has advocated for changes to our criminal justice system to increase its legitimacy by removing conflicts of interest and incorporating nationally recognized best practices. We've called for a special prosecutor in lethal police-action shootings; asked for outside counsel in termination hearings involving the death of civilians; and advocated for the inclusion of amicus briefs in termination hearings. And because the law requires police on the Civilian Police Merit Board, we've called for the engagement of other police-affinity groups, such as the local chapter of the National Organization of Black Law Enforcement Executives, to participate along with the Fraternal Order of Police. Law enforcement and city leadership must appreciate that they cannot conduct business as usual.
IMPD gets it. I had the opportunity to sit by Chief Bryan Roach in implicit-bias training with the IMPD command staff. We looked at de-escalation tactics and use-of-force policies and other general orders with a critical eye toward ensuring policing is fair and impartial. IMPD leadership is embracing these needed reforms to restore the social contract between police and the community. My hope is that police-affinity groups and rank-and-file police officers will also embrace these reforms.
The black community wants to feel like the police department will protect it and that the Prosecutor's Office will prosecute when our loved ones are victimized. We want judges to dispense the community's justice with fairness. We also want the city to think about its systems from the perspective of a suspicious public that does not trust the process.
My fear may already be realized as we see more and more people taking "justice" into their own hands. They are taking advantage of a community that might not think its members can speak to the police or cooperate with prosecutors. We are on pace to set another record in homicides. In losing the legitimacy of and trust in our systems, we are losing our city's peace.•
Click here for more Forefront columns.
__________
Wolley is a lecturer at the School of Public and Environmental Affairs at IUPUI.Send comments to ibjedit@ibj.com.
Please enable JavaScript to view this content.