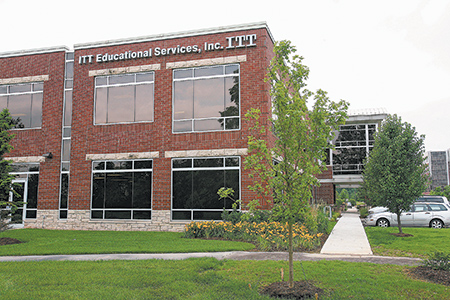 The bankruptcy trustee charged with trying to get a settlement for ITT Technical Institute's students and creditors has filed a $250 million lawsuit against ITT Educational Services' ex-CEO and eight of its former directors.
Deborah Caruso, the Chapter 7 trustee, last week filed the suit in U.S. Bankruptcy Court in the Southern District of Indiana, alleging former ITT Educational CEO Kevin Modany and the company's board of directors, including Indianapolis hospital executive Samuel Odle, breached their fiduciary duty to ITT and its stakeholders, leading to ITT's bankruptcy.

Kevin Modany
The suit names Modany and Odle, who was presiding director, along with former board directors John E. Dean, C. David Brown II, Joanna T. Lau, Thomas I. Morgan, John Vincent Weber, John F. Cozzi, and Jerry M. Cohen.
Carmel-based ITT Educational, the corporate parent of ITT Tech, closed all 130 ITT campuses in 38 states in September 2016 and left the educational futures of about 40,000 students in disarray.
The lawsuit says that ITT Educational, despite having cash and equivalents of $108.6 million on March 31, 2016, shut down five months later "without an orderly plan for winding down its operations or even providing for a teach-out of its 40,000 active students."
"ITT's free-fall bankruptcy left it with no shareholder equity and billions of dollars in potential claims," the suit says.
The trustee's complaint says the "resulting tragedy could have been avoided, or at a minimum, the damages could have been significantly reduced, if Defendants had fulfilled their fiduciary duties to ITT and its stakeholders, including creditors and active students."
The suit alleges the breach of fiduciary duties happened because of the following:
the directors abdicated "crucial decision-making authority" to Modany to negotiate with important partners despite knowing "Modany was conflicted and could not be trusted to place ITT's interests above his own personal interests, including his desire to retain control of ITT and the obvious incentive to maintain the benefits of his substantial compensation package." Modany's total compensation in 2014 from ITT Tech was $3.2 million. In 2015, it was $1.4 million. In 2016, it was about $824,000, but he received other benefits, including use of a company car.
retaining Modany against the wishes of accreditors, regulators, attorneys general and other partners, and "chronically failing to exercise reasonable oversight" over him.
failing to "independently investigate ITT's financial condition and ability to continue operations."
failing to secure a merger, sale or other transaction to maximize ITT's value for constituents.
failing to secure an orderly wind-down of ITT's operations, including a teach-out of its student body.
Neither Odle nor a lawyer representing the directors immediately responded to IBJ's request for comment.
The lawsuit states that ITT's "crisis period" started on April 20, 2016, when accreditor ACICS, known as the Accrediting Council for Independent Colleges and Schools, sent a letter ordering ITT to show cause why its accreditation should not be withdrawn or conditioned, in part because of "public and widely-known allegations" regarding the quality of its instruction.
The defendants, Caruso alleges, "knew (or recklessly disregarded the fact)" that failing to satisfy ACICS could cause ITT to lose its accreditation, rendering it ineligible to receive crucial federal funding that accounted for about 90 percent of its revenue.
They also knew or disregarded, Caruso alleged, the fact that ACICS "wanted to terminate Modany." In fact, Modany wrote to executive chairman John Dean that their resignations were "likely a necessary action" because "it's almost a certainty that we need to give these guys a dead body!"
Instead of stepping down, the lawsuit alleges Modany "downplayed the risk of de-accreditation and pushed the board to pursue a sale of the company or its assets, but only on terms that were beneficial to Modany, personally."
The lawsuit also states Modany was not only financially conflicted, but was "obsessed about protecting his reputational interest."
He "selfishly focused on securing a strategic transaction that would trigger his severance payment and provide him continued employment or some other face-saving exit," according to the complaint.
Modany also apparently tried to scuttle other possible deals that ITT could have taken part in, according to the complaint.
There was a possible transaction with U.S. Skills LLC and Thomas H. Lee Partners, but the complaint states Modany took affirmative efforts to undermine the offer by saying he was "increasingly doubtful about the seriousness… of the offer, and encouraged the directors to cease discussions."
In one email, Modany stated, "the sooner we stop talking to these guys and wasting our time, resources and the globe's oxygen supply the better!"
To another potential deal inquiry from Genki Capital, who had suggested an acquisition, ITT officer Rocco Tarasi forwarded the inquiry to Modany and said "I'm going to ignore this unless you want otherwise."
Modany replied: "I think you know the answer … wild ass fishing!"
The complaint also lays out troubles that the board had in communicating or engaging with Modany.
Odle on April 30, 2016, asked Dean, as chairman of the board, to set up a conference call with Modany to discuss different transaction options. Dean replied later that Modany "declined the request."
Odle responded: "John you are his boss. How does he decline your request?"
The lawsuit also alleges the defendants "disregarded their duties to take concrete steps to limit ITT's liabilities."
"They knew (or recklessly disregarded the fact) that an orderly wind-down would require [the federal government's] cooperation and take many months and that by not so acting, they would be exposing ITT to otherwise avoidable catastrophic liabilities."
The lawsuit states that "as a direct and proximate result of the wrongful acts, omissions and breaches of duty alleged heriein, ITT has been damaged in an amount subject to proof at trial, but in any event, no less than $250 million."
It also asks for a jury trial, claims that the defendants should be ordered to "disgorge" all compensation received by their roles at ITT, and that Modany's claims as an unsecured creditor should be delayed until other creditors are paid.
Please enable JavaScript to view this content.