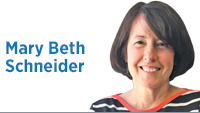 Imagine a product that lets you instantly communicate your thoughts to anyone—even famous celebrities—and hear back from them in seconds.
Actually, no need to imagine.
That's Twitter.
At its best, the social media site lets you share news at the speed of light, making it a favorite of journalists and politicians.
At its worst, it lets you share at the speed of light the stupidest, meanest thought that ever entered your head.
Roseanne Barr did that frequently. She's still famous. She still has more than 827,000 Twitter followers. And she's unemployed.
Rightfully so.
What Barr wrote (I'm not repeating it because it is vile but you can find it everywhere) was blatantly racist. The First Amendment allows you to say vile things without facing government prosecution; it does not allow you to say vile things and keep your job if your employer finds that it reflects badly on him or her, too.
I first fell in love with Twitter as a reporter for its ability to let me publish news as it was happening and hear back from a wide range of people. I still love it because I can follow news as it is happening and share in a state or nationwide commentary on it.
But Twitter's speed—a huge asset—is also its biggest liability. Barr apparently has no internal filter, so perhaps she'd say the same things with or without a time delay. But many people could use an extra feature, a pop-up that asks, "Seriously? This is what you want to say?" before you hit the "tweet" button.
Because a stupid thoughtless joke or insult can go viral in seconds. You don't need a million followers for that to happen. Just ask Justine Sacco. In 2013, she filled in some of the long hours on a trip from New York to South Africa by joking around on Twitter.
"Going to Africa. Hope I don't get AIDS. Just kidding. I'm white!"
She didn't think anyone would take that seriously, and besides she had only 170 Twitter followers.
By the time she got to Cape Town, her tweet had blown up into a worldwide scandal; she was vilified as a racist and was soon unemployed.
Twitter lets you mute people you find annoying and block people who are abusive. But only you can mute yourself; that takes self-awareness and as much discipline as you can muster between typing 280 characters and hitting the tweet button.
Obviously, that's a skill our president, the Tweeter-In-Chief, hasn't used. He tweets insults and outright lies with impunity. But like so many things, what has helped make Trump first a celebrity and now president can make others pariahs.
A recent column on the digital news site Vice.com argued that one solution to the frequent toxicity of Twitter is simple: "Delete your account."
Barr, after tweeting that she was leaving Twitter, has continued to tweet bitter musings, negating her apologies. And that Vice article? At the end, there's a link to follow the author on Twitter.
Breaking up is hard to do, it seems.
Instead, it's best to remember the traits that make Twitter a gift also make it a curse. It will put you in touch with thousands of people you never met who will grieve with you over a loss, laugh with you over a cat video, or join with you in shock at a tragedy. It can also bombard you with hate from anonymous trolls or turn on you with angry condemnation.
Handle with care.•
Click here for more Forefront columns.
__________
Schneider covered Indiana government and politics for The Indianapolis Star for more than 20 years. Send comments to ibjedit@ibj.com.
Please enable JavaScript to view this content.