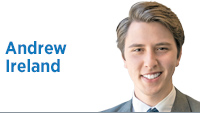 Donning a pressed navy suit, an atypically polished Mark Zuckerberg stood before Congress this spring, addressing the scandals that now define 2016's presidential election. Perhaps the world's most influential tech titan, the unassuming CEO of Facebook stoked the flames of an already-fiery debate over data privacy.
We learned one thing from his congressional hearings: Our fundamental notions of privacy are on notice. Beyond stories of Cambridge Analytica and Russian collusion, the widespread availability of personal data and its prevalent misuse by marketers is deeply disturbing.
Now, the question is not whether this is a problem, but how to address it. A growing body of lawmakers and even industry leaders have called for sweeping regulatory measures. Nodding to this, Zuckerberg opined, "The real question, as the internet becomes more important in people's lives, is what is the right regulation, not whether there should be or not."
Forefront's own John McDonald recently penned a column to the same tune, arguing, "We must pass proactive protections before the disaster hits."
Yet, this push is short-sighted. As with so many cases, even if politically and practically feasible, well-intended regulations will do more harm than good.
Ultimately, government is incompetent and unprepared to address data privacy concerns. To no surprise, the men and women charged with regulating digital technology lack a basic understanding of the field.
Indiana's own 8th District U.S. Rep. Larry Bucshon made a clear example of this while querying Zuckerberg. Bucshon asked whether Facebook data mines users' phone calls. His conspiratorial implication falls in the realm of Roswell cover-ups and Elvis faking his own death, suggesting the social media giant unlawfully "listens" to calls before quickly repackaging data for marketers.
Sen. Orrin Hatch of Utah seemed similarly befuddled by Facebook. He asked Zuckerberg, "How do you sustain a business model in which users don't pay for your service?"
The Facebook CEO responded: "Senator, we run ads."
While this might mirror the tech literacy of many, lawmakers must be held to a higher standard.
Fortunately, the market is already responding. Facing intense pressure from users and corporate activists, web giants are rolling out new policies to help protect consumers. Many more are educating customers on long-standing, underused protective features. From data collection opt-outs to tools documenting political advertising, these developments are indicative of a broader shift. Regulation, notably, will undermine these positive developments.
Choosing lawmaking over innovation and market pressures is not just bad practice—it might prove detrimental to society. We are in a period of exponential growth, already reaping rewards from technological advances in medicine, consumer services and nearly every profession. Make no mistake, the regulations Facebook and its peers face will weigh down innovation and hinder the progress of beneficial sister technologies. After all, much of the century-old regulatory environment these companies face was crafted for the early telecommunications industry.
Pairing the promise of exponential growth and the unique complexities of digital technology—not to mention the embarrassing display by lawmakers—we are not ready to take the leap into lawmaking.
One day, regulation might be warranted or even necessary, but now is not the time. Regulation is a fickle thing, after all. Piling it on is relatively easy, but rolling things back is anything but.•
Click here for more Forefront columns.
__________
Ireland is a Robel Scholar at Indiana University's Michael S. Maurer School of Law and a digital media consultant. Send comments on this column to [email protected]
Please enable JavaScript to view this content.