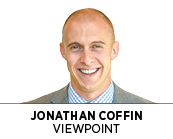 For a few hours one day in May, there were no Starbucks breakfast blends or caramel macchiatos.
On the afternoon of May 29, Starbucks closed all 8,000 company-owned stores nationwide—including the more than 220 in Indiana—while employees participated in unconscious bias training. The training was part of the firm's response to racial-bias accusations after the arrest of two black men in a Philadelphia-area Starbucks in April.
This is only the latest and most prominent example of a major company being accused of bias. And it won't be the last. But there's a lot we can learn from how Starbucks responded.
First, don't equivocate on racism or discrimination issues.
An incident of this magnitude can expose an acute conflict between who you say you are and who you appear to be. It demands clarity from leadership about what happened and why.
It's either wrong or it isn't, which is why Starbucks CEO Kevin Johnson wasted no time in calling the incident "reprehensible."
But too many companies are slow to acknowledge the obvious. And failing to do so only fuels the original critique.
Second, engage at the most senior levels.
Employees and customers can sense when an apology feels insincere. Johnson knew this and made a point to fly to Philadelphia to apologize in person to the two men.
CEO leadership also adds gravitas to ongoing inclusion initiatives that might not always be top of mind during day-to-day management.
Four Indiana CEOs—at Eli Lilly and Co., CNO Financial Group, NiSource and Anthem—appear to recognize this and have signed the CEO Action pledge on diversity and inclusion. The commitment is straightforward: Support the complex and difficult conversations about difference; implement and expand unconscious bias education; and share best practices with peers.
Third, be willing to take meaningful action, and remember that you're never "done."
Rebuilding reputation is about making sure your key audiences and constituents are aware of the substantive changes you're making. It's not about making the current crisis "go away."
There is plenty of room to debate whether Starbucks' training approach will be successful, but there's no doubt the firm has skin in the game. By temporarily closing its doors, Starbucks forced its most loyal customers to join it in wrestling with the perils of unconscious bias.
Fourth, don't wait for a crisis.
It shouldn't take a crisis to realize the benefits of a more inclusive culture.
Programs like Cummins Powers Women have merged corporate social responsibility efforts with critical conversations about advancing women as leaders.
In our community, United Way of Central Indiana is helping civic and business leaders wrestle with difference through sessions that ask a simple, but deep question: What's it like to be me?
And, finally, remember that an inclusive culture is good for the bottom line.
Fostering inclusion is the right thing to do, and it increases productivity and customer loyalty. Salesforce research found 80 percent of employees and customers expect businesses to contribute to society. Meanwhile, employees who indicated their voice matters were almost five times more likely to feel empowered to perform to their potential.
In short, don't wait for your Starbucks moment. Make sure you understand the climate you've created within your company for women, people of color, members of the LGBT community, and other under-represented groups.•
__________
Coffin is senior vice president at VOX Global's Indianapolis office and co-chair of its diversity and inclusion practice.
Please enable JavaScript to view this content.