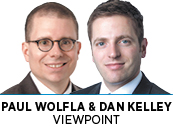 Former Indiana Chief Justice Randall T. Shepard noted recently that "[t]here are at least 50 public companies based in our state whose national and international reach is followed by analysts and investors." When one of those companies announces a merger with another company, it's a safe bet a class action lawsuit will quickly follow.
That's because almost every time such a transaction is announced, a shareholder of the selling company sues, claiming the company's proxy disclosures were insufficient. These lawsuits are usually followed by settlement demands insisting that the company make additional disclosures— and pay the plaintiff's lawyer's fees. Often, companies and their boards quickly agree to these extortionate demands, reasoning that it's a bargain to pay a few hundred thousand dollars in legal fees—"small potatoes to the giant new company," according to a recent opinion from the U.S. Court of Appeals for the Seventh Circuit—to avoid risk to the overall transaction.
The appeals court (which covers Indiana) held that this sort of "deal litigation" is "no better than a racket. It must end."
Indiana's federal trial courts have taken the cue. In Bushansky v. Remy International Inc. et al., Judge Tanya Walton Pratt rejected a proposed class settlement of deal litigation stemming from Remy International Inc.'s acquisition by BorgWarner Inc. The settlement followed the usual pattern: Remy made some supplemental disclosures, and the plaintiff's lawyers would have received more than $400,000. Pratt held that, because the disclosures were worthless, the plaintiff's lawyers shouldn't get a windfall.
Two shareholders of Indianapolis' Interactive Intelligence Group Inc. took a similar approach when Interactive was acquired by Genesys Telecommunications Laboratories Inc. (Full disclosure: Faegre Baker Daniels represented Interactive's independent directors in both suits.)
In the first suit, Fischer v. Interactive Intelligence Group et al., a shareholder tried to hold the deal hostage by seeking a preliminary injunction to block the Interactive shareholders' vote to approve the merger. The shareholder claimed Interactive hadn't disclosed enough to shareholders before the vote.
Instead of issuing supplemental disclosures and offering to pay the shareholder's attorney's fees, Genesys, Interactive and Interactive's independent directors opposed the injunction. Just days later, the shareholder voluntarily dismissed the suit. The vote went forward as scheduled, and more than 99 percent of the voting shareholders approved the merger.
Two and a half weeks after the vote, a second shareholder took a shot at the deal, filing a lawsuit alleging similar claims. Genesys, Interactive and Interactive's independent directors fought back again, filing a motion to dismiss the suit (Trahan v. Interactive Intelligence Group et al.). Judge Sarah Evans Barker granted the motion, dismissing the suit with prejudice and writing about one of the shareholder's arguments that, "as a matter of ordinary common sense," it was "an absurd contention."
One of the 50 Indiana companies Shepard mentioned was Evansville-based Vectren Corp., which recently announced its pending acquisition by Texas' CenterPoint Energy Inc. Vectren can expect plaintiffs' lawyers to find fault with its proxy disclosure filing and find a shareholder or two willing to file suit. The two Interactive cases show that, if companies like Vectren have confidence in their proxy disclosures, they can end the meritless shareholder M&A lawsuit "racket" simply by refusing to go along with it.•
__________
Wolfla is a partner and Kelley an associate at Faegre Baker Daniels.
Please enable JavaScript to view this content.