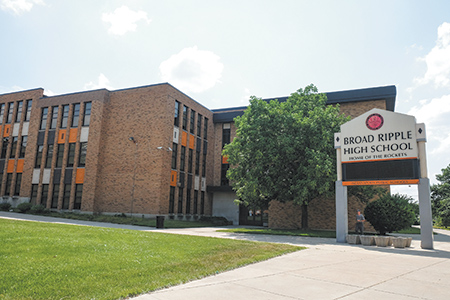 There's not much that drags down a neighborhood more than an empty school.
Given that reality, we understand the thinking behind the 2012 state law that's now creating headaches for the cash-strapped Indianapolis Public Schools as it attempts to get top dollar for Broad Ripple High School.
The school, which was set to close for good on June 8, is on the eastern edge of Broad Ripple Village, a corridor that's seeing an explosion of apartment construction. Developers are salivating over the 16-acre property and gearing up to offer millions of dollars to buy it.
But that law looms as a huge roadblock. It requires school districts with empty school buildings to make the properties available to charter schools for two years before selling to other buyers. Charters typically have the option to buy the empty buildings for just $1.
In many parts of the city and state, closed schools sit in tucked-away locations and remain shuttered for years or even decades. In instances like that, smoothing the path to charter school ownership makes eminent sense. After all, the ownership shifts bring positive activity and energy back to neighborhoods, and they give a financial lift to charters, which don't have as many tools as traditional public schools to build or buy buildings.
But the dynamics surrounding Broad Ripple High School are entirely different. It sits in a bustling commercial corridor, and the school district that owns it is wrestling with a projected budget deficit topping $45 million next year. Further, it sits within the city of Indianapolis, which is wrestling with its own budget challenges, and would benefit from having the prime parcel returned to the tax rolls.
Schools, including Purdue Polytechnic High School and Herron High School, have expressed interest in using some of the space, but it's unlikely an education use will emerge that would swallow up the entire property. At its peak more than 20 years ago, Broad Ripple had enrollment topping 2,500.
We're by no means against devoting part of the property to education uses, but not in a way that precludes a deal with a developer who could craft a mixed-use plan for the property that serves the broader interests of IPS and the community as a whole.
Superintendent Lewis Ferebee attempted earlier this year to get the General Assembly to exempt IPS from the 2012 law but came up short. We implore him to try again next session. Those efforts deserve broad support from those who care about the financial health of IPS and the continued growth and prosperity of Broad Ripple.•
__________
To comment on this editorial, write to [email protected]
 
Please enable JavaScript to view this content.