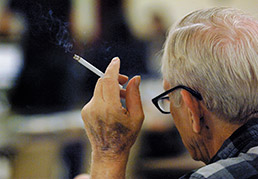 More than 20 percent of Hoosiers smoke, which causes more than 11,000 premature deaths each year, according to a new study. (IBJ file photo)
Indiana is one of the unhealthiest states in smoking rates and lags the nation in public funding to reduce smoking, a new study says.
More than 20 percent of Hoosier adults smoke, while the national average is about 15 percent. More than 11,000 Hoosiers die prematurely from smoking each year, according to a study from the Indianapolis-based Richard M. Fairbanks Foundation. That costs the state $7.6 billion annually in medical expenses, lower productivity and premature deaths.
Yet Indiana spent just $8.2 million in federal and state dollars in 2016 on programs to prevent people from smoking, help them quit, and protect people from secondhand smoke, the study said.
That amount is just 11 percent of the $73.5 million recommended by the Centers for Disease Control and Prevention—and far behind other states' funding levels. Indiana's per-person tobacco control funding, at $1.23, is less than half the national average of $2.92.
For more than two years, a coalition of public health, business and insurance interests, called the Alliance for a Healthier Indiana, has been pushing without success for Indiana to raise the tax on cigarettes, increase the legal age of smoking from 18 to 21, and repeal the so-called "smoker's bill of rights."
The report recommends that Indiana spend nine times the current level, or $65.3 million more a year.•