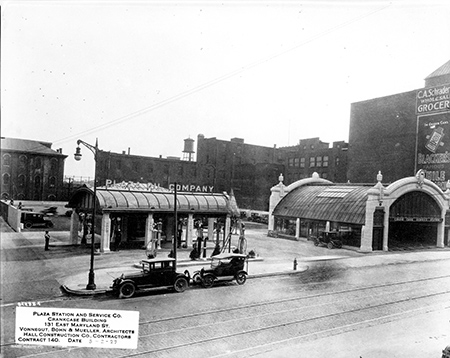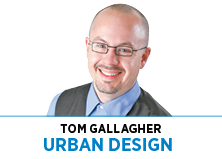 Gas stations, over the course of their 100-year history, for better or worse, have made an indelible impression on the urban environment. They have become such a regular, even expected, part of our everyday conditions, you might not have noticed that the stations as we know them are disappearing.
In the early 1900s, as autos were becoming more pervasive, the latest in high technology, the "Self-measuring Gasoline Storage Pump," gave rise to what came to be known as the filling station. In the early part of the 20th century, these new fuel ports became a regular presence in the urban environment, often occupying small but beautifully articulated, civic-looking buildings when offering a fill-up was practically a public service.
They evolved quickly. By the 1940s, the filling station had become the streamlined, utilitarian "super service" station, providing vehicle maintenance and parts sales. The 1970s saw the rise of self-serve fueling and convenience stores with gas pumps.
At their peak, there were nearly a quarter of a million gas stations across the country—to understand the magnitude, there are currently about 14,000 McDonald's and 13,000 Starbucks in the United States. However, today, there are less than half as many gas stations, with most of the reduction occurring in the last 25 years.
Necessary as gas stations may be, their business model is complicated. The industry has always been affected by advances in fuel efficiency and general volatility in the petroleum sector. While more than 70 percent of station revenue comes from gasoline, most of the profit comes from in-store sales. More recently, increasing land values and reduced demand (fewer drivers) have added to their challenges.
The increasing diversity of consumers (hybrids, electric vehicles, car shares and autonomous vehicles) and technological change happening at lightning speed suggest the near future will see the same kinds of massive disruptions happening throughout the rest of the retail sector. However, as personal vehicles are not going away anytime soon, it is unlikely the gas station will become extinct. Instead, industry speculators suggest we are seeing the signaling of the next evolutionary leap.
We can already see gas stations providing offerings with broader appeal, including sit-down restaurants and fresh foods. Small numbers are experimenting with their fuel offerings, including high-speed electric "super chargers," liquified petroleum gas and compressed natural gas. In an age of personalizing everything, you might soon have the opportunity to specify your own fuel mix recommended by your car and its current conditions.
Future gas stations will take self-service to the next level. Smart cars with EZPass-like payment mechanisms will plug into smart pumps offering full-service fueling while you catch up on texts and email in the driver seat.
Beyond that, you soon might not need to be present at all. Companies are already investigating "on-demand" fueling, bringing the gas pump to your workplace or driveway. Once we have self-driving vehicles, imagine them getting gas and groceries for you while you sleep, using algorithms to choose the best time, location and prices available.
As fueling becomes the background rather than the event, it will leave drivers with time on their hands while they fill up. Savvy stations will take advantage by becoming a personal concierge of sorts, a convergence point for such amenities as mail-order package lockers, laundry exchange and grocery delivery.
For this potential iteration, I am particularly hopeful. In our digitally linked but socially disconnected world, the last things we need are more reasons to miss out on face-to-face interactions. Like the post offices of the past, I am optimistic that these connection stations can regain a bit of their civic side, becoming places of spontaneous collaboration and chance meetings with neighbors and associates.
Whatever we may speculate, it is certain change is inevitable for the gas station and, along with it, our urban places.•
Please enable JavaScript to view this content.