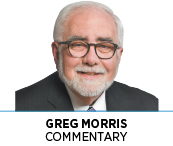 I recently discovered an organization that caught my attention and moved me—Dove Recovery House for Women. I would like to share a bit of their story.
Dove Recovery House is Marion County's largest substance abuse recovery center for women. Founded in 2000, its mission is to provide transitional housing, sober living, outreach education and hope for women ready to start a life without addiction.
Dove Recovery House's comprehensive approach is unique. Besides safe housing, clients have access to mental health and substance abuse treatment, domestic violence services, relapse prevention counseling, family reunification services, employment placement, daily living skills coaching, healthy meals and financial management.
The program is only for women who are at least 18 years old; have a personal experience of alcohol and/or drug abuse or addiction; are committed to recovery; and agree to stay at Dove House at least 90 days, although residents can stay up to two years.
In the first 30 days, residents do nothing but attend programming, but they are gradually given more responsibility. As a result, they gain a stronger sense of self-esteem and are able to develop a "yes, I can" attitude. They focus on what they want to achieve—going back to school, reuniting with their children, finding employment, and of course, sober living.
It's often not understood that most women who are addicts come from a background of trauma and abuse. Approximately 90 percent of Dove Recovery House's clients have experienced early-childhood sexual abuse and all of them have experienced physical, sexual and emotional abuse as adults. In partnership with Damar Services, Dove provides trauma therapy to all its clients, who are enrolled in health insurance so they can access care.
Also unique is that Dove Recovery House is free to clients. That's right; there's no charge for the program to the client or their families. By doing this, Dove intends to remove every barrier possible so clients can focus entirely on their recovery. For many of these women, this is the first time they've been able to take the time they need to get healthy.
Fueled in part by the opioid crisis, demand for Dove House services is great. With only 38 beds, Dove House's wait list averages three months. But for those who do get started at Dove House, nearly 77 percent successfully complete the program. That is an amazing success rate for Dove House, which in 2017 served more than 75 women.
Any successful organization like this is about the people who operate it every day and care for those who need help. Dove House is no exception. Congratulations to Executive Director Wendy Noe and her entire staff, volunteers and board members on the significant and positive impact they're making for women in our community.
Dove Recovery House for Women is at 3351 N. Meridian St. If you or a loved one want help in recovering from addiction, call 317-964-0450 to schedule an assessment or receive more information.
There is no charge for clients and families. That means Dove House needs financial support. The cost for a woman to stay at Dove House is $222 per week, an expense covered by grants, corporate sponsors and individual donations. Dove House does not receive federal funding. Find out more at www.doverecoveryhouse.org.
If you are able to help, please reach out and offer your time, talent and resources. Thank you.•
__________
Morris is publisher of IBJ. His column appears every other week. To comment, send email to gmorris@ibj.com.
Please enable JavaScript to view this content.