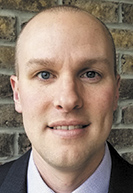 Hawk
Jeremy Hawk had never missed an opportunity to vote in an election. Not until 2014.
He had recently moved from the Castleton area of Indianapolis to Hamilton County. He checked out his ballot and realized there weren't any Democrats for him to support. Office after office, he had one choice: Republicans.
Frustrated with his options, he didn't even bother showing up to the polls that year, he told IBJ.
When 2016 rolled around, his ballot was a bit more inclusive. Local Democratic candidates were willing to run for office alongside national and state candidates. After all, Democrats were more likely to cast a ballot for a local candidate when they were already voting in the presidential election. But even then, there was a vacancy on the ballot.
Hawk decided he wasn't going to let that happen again, not if he could help it. He decided he'd run for local office and give Hamilton County Democrats, no matter how few they may be, a choice.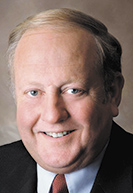 Schwartz
This spring, his race was one of the first Democratic primary contests Hamilton County has seen in years. He prevailed, and now he faces incumbent Republican Steve Schwartz, a four-term member of the council who overcame a heated primary challenge, for the District 3 seat on the Hamilton County Council.
Schwartz has faced only one other Democratic challenger in the past 16 years. In 2002, the first time he ran for county council, he was challenged by Democrat Kirk Demaree. Schwartz took 75 percent of the vote. Demaree garnered about 18 percent, with liberal Terry Baker taking the remaining 8 percent.
In 2006 and 2014, he ran unopposed. In 2010, he was challenged by liberal Joseph Tucker. He secured nearly 83 percent of the vote.
Hawk is among a growing number of Democrats in Hamilton County placing their names on the ballot this year. Twenty-five candidates have already filed to run for either a state or local office, and party leaders expect to announce more candidates after they hold a caucus to fill ballot vacancies later this month.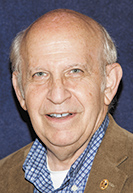 Weingarten
Hamilton County Democratic Chairman Joe Weingarten said there's no question the party is gaining momentum. In 2014, the last time Hamilton County held a midterm election, only nine Democratic candidates stepped up to run for office.
Laura Campbell, the Hamilton County GOP chairwoman and a Carmel city councilwoman, said the Democratic Party likely is growing but so is hers.
This year, the party's springtime Lincoln Day Dinner sold out, more volunteers have signed on to help with campaigns, and young Republicans are getting on board, she said.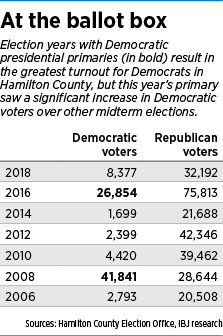 "I'm still pretty confident that Hamilton County will stay conservative," she said.
"I say this time and again, all you have to do is look south of 96th Street to see what Democratic leaders can do to a city."
Still, could this be the Democratic Party's breakout year? Weingarten said maybe, although it all depends on the definition of success.
This year's slate of candidates has a lot to offer, Weingarten said. He believes there's a good chance a Democrat could prevail and be elected to a Hamilton County office, a feat the party hasn't accomplished in more than 40 years.
Now, just two Democrats serve as elected officials in the county, one as the clerk-treasurer in Cicero, the other on the Hamilton Southeastern School Board, he said. County offices are dominated by Republicans, who make up the entire board of commissioners and the council.
"I think you're going to see after this November, there are a few more" Democrats, Weingarten said. "We have some very strong candidates."
Schwartz pointed to his district's contested Democratic primary as proof Democrats are gaining momentum. The party has struggled to find candidates to face Schwartz in every re-election bid he's made, and this year, there were two.
Why is the party growing? What's changed in Hamilton County? Schwartz doesn't have an answer, but he points to population growth as one possible reason the county is seeing more Democrats.
Hamilton County has grown about 75 percent since 2000, and the new families moving in might be more liberal than the families who have long called Hamilton County home, Schwartz said.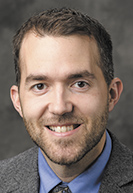 Eltz
Balance in government
The Democratic candidates running for office say local boards need balance, and from what they hear out on the trail, voters agree.
"You can't just have one party. You can't have an echo chamber," said Jeremy Eltz, a Democrat running in the Hamilton County Council District 1 race. "I really don't think government works in an echo chamber."
But Schwartz—the incumbent Republican councilman facing Hawk—said it's hard to argue the current political landscape of Hamilton County government is bad. Not with the success and accolades the county has seen, he said.
Hamilton County communities rank among the best and safest places to live not only in Indiana but across the country, and taxes remain relatively low, Schwartz said.
"I think the government we have in place right now, we all tend to share the same visions, which creates a lot of good teamwork," he said. "The result of that is what you see."
Campbell argued that voters have had choices over the years. Republican primaries are often contested, she said.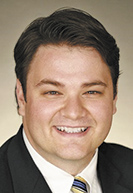 Ford
J.D. Ford, who is running against Sen. Mike Delph to represent District 29, which encompasses Carmel, said he's seeing a big difference this year compared to when he ran for the office four years ago.
When he was campaigning then, he didn't meet a lot of people who wanted to engage with him about politics. Now, they're taking his literature and stepping out onto their front porches for conversations, he said.
He's excited by the enthusiasm and thinks it's a good sign of what's to come.
"More people are really paying attention to politics," he said. "Looking at other campaigns, the suburban Democrats are starting to get out there and energized, which is good for us."
Increasing voter participation?
Weingarten, who has served as the party's chairman since shortly after the 2016 general election, said the party is also seeing an increasing number of voters supporting Democratic candidates.

Hamilton County elections administrator Kathy Richardson told IBJ in an email the office does not track the number of voters who pulled Democratic tickets in previous primaries, but she suggested looking at the first race listed on the ballot—usually a national race—to get an idea of the breakdown.
In 2014, about 1,700 Democrats voted in the primary election for the U.S. House of Representatives District 5 race, election results show. Then, three Democrats were running for the office, which represents all of Hamilton County.
This year, that race drew about 8,100 votes, results show. Roughly 8,375 voters cast ballots for U.S. Sen. Joe Donnelly, who did not face a challenger in the primary. The last time Donnelly was on the ballot in 2012, about 2,300 Democrats cast ballots for him in the primary.
The party does see significantly more voters during years there is a presidential primary, results show.
In 2016, about 26,800 residents cast ballots in the primary race between Hillary Clinton and Bernie Sanders.
About 41,840 voters cast ballots in the 2008 presidential primary between Barack Obama and Hillary Clinton. Comparatively, the Republican presidential primary that year drew 28,500 votes.
Still, in six of the last seven elections (not including those with only municipal candidates), far more Republicans have turned out to vote during primaries than Democrats. In 2016, about 75,800 voters cast Republican ballots in the presidential election. Even during years with lower voter turnout, however, the numbers are starkly different. For example, in 2014, about 21,700 voters cast a Republican ballot. That year, just 1,700 voters picked a Democratic ballot.
Weingarten believes as more new people move into Hamilton County—the population is projected to grow to more than 500,000 residents by 2050—the Democratic Party will continue to grow.
New technology companies, for example, may attract voters who lean more liberal, he said.
"Hamilton County is not necessarily the old homegrown, ultra-conservative place it once was," he said.
Not the only one
Weingarten remembers a time, admittedly not long ago, when Democrats in Hamilton County would meet one another and exchange an adage: "I thought I was the only one."
Candidates running for office this year have similar stories to tell; a few years ago, when they reached out to get involved in the party, it was so small, there wasn't much going on.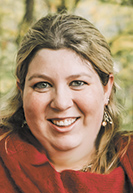 Roberts
Tracy Roberts, the Democratic candidate for the District 29 state House race, said she first reached out to local Democrats eight years ago. It wasn't until 2016 she really started to connect with the party.
She's now chairwoman of the Hamilton County Democratic Club, a partner organization that educates voters and promotes local candidates and events. She started attending those meetings at the end of 2016, and at the time, an average of 25 others attended. Now, the club is seeing 60-80 people at each of its events, she said.
"People want to do something," she said.
Ford said when he ran in 2014, few people attended the Democratic Party's meetings. Now, it's standing-room-only, and he's seeing that in Boone County as well.
"I'm encouraged because now I'm seeing the energy," he said.
Pete Seat, the Indiana Republican Party's executive director of strategic communication and talent development, said the Democratic Party might be gaining attention across the state because candidates are putting their names on the ballot, but Republicans in Indiana win general elections.
"I'm not the least bit concerned that Democrats have finally woken up from a decade-long slumber," he said. "The reality is, we remain strong, and we're getting stronger every day."
Hawk, a first-time candidate, said he doesn't believe it's likely Democrats will ever win a majority in Hamilton County. But winning a seat here and there is an attainable goal, he said.
Whether that will happen this year is anyone's guess, he said, but if the candidates today can help pave the road for future candidates to win, his campaign will be successful, he said.
"I'd like to start laying that groundwork now," he said.•
Please enable JavaScript to view this content.