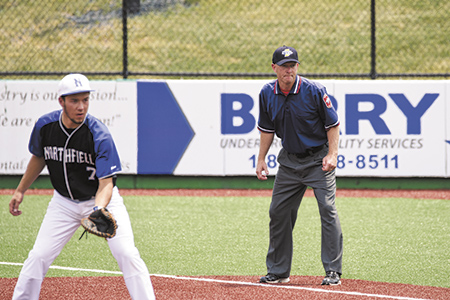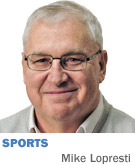 KOKOMO—The baseball semistate fans from Jay County were not happy, and they knew just whom to blame.
"C'monnnnn, Blue!"
Wait a second. That guy's name isn't Blue; it's David. And he's a head varsity basketball coach, not the home-plate umpire.
Turns out, we're talking one and the same. Welcome to the rare bifurcated world of David Disbro.
In the winter, he's working the sidelines for the East Central Trojans—a high school just off Interstate 74 at the Lawrenceburg exit—winning 263 games in 19 seasons as the basketball coach.
In the spring, he's working the bases for the IHSAA as one of its top umpires. Saturday's Class A Daleville-University game at Victory Field will be his fifth state finals. Such a double life is not absolutely unique, but he's been particularly adept living it. How many men do you know who can say they've both coached and officiated in a regional?
In the eternal and sometimes tense relationship between coach and official, Disbro has one foot in each universe. You wonder if that helps him better understand what the other side is thinking.
"I hope so," he said in the umpires' dressing room at Kokomo last week, before heading out to work the semistate.
"You want to get all of the calls right, but you're not going to. If I'm busting my butt and hustling, and if I'm in position to make the call, that's all I can do. When I see somebody on a basketball floor, if they're doing those things and they don't get it right—because I think their job's a lot tougher than a baseball official, because it's every single possession in basketball—I don't have much of a problem. And if they're not treating a coach like we're a second-class citizen, because sometimes I see that in the umpire world. It's kind of like them against us, and I never want to be that guy.
"Vice versa as an umpire—maybe I give the coaches a little more leeway. I've had my license for 28 years, I've never thrown anybody out of a baseball game. Knock on wood."
Switch-hitting like this can have its odd moments. Let Disbro tell you about his last technical foul as a coach.
That came last December during a loss to Whiteland. Disbro thought his players were getting too many hand checks and said as much to the referee, Ron Jobst, who is also a baseball umpire.
"He's a good friend of mine. I've worked with him a lot. He quickly said, 'David, I'm not going to listen to it anymore.' I said, 'I'm just trying to get his hands off us.' Next thing I know …"
Bang. Technical.
The two had regularly chatted and texted, but frosty silence ensued the next few weeks. Flash forward to the first game at the Morristown baseball regional two weeks ago. Guess who was half of the four-man umpire crew? Disbro and Jobst.
"We're getting ready to go out in the championship game," Disbro said. "The other two officials were asking me, when's the last time I had a technical foul. I nodded to [Jobst] and said, 'The dude right there is the guy who gave it to me. I thought he was my friend.'
"We talked about it. He thought I had said something I didn't say."
Ah, detente. All is well now, and Jobst will be working East Central games again next season.
Or ask Disbro the reactions he can get from opposing fans, when he coaches against their basketball team, and two months later, shows up as an umpire and makes a call against their baseball team. His high school alma mater, for instance.
"The place I hear it the most is at South Dearborn, and it's people that maybe I've known forever, or know that I'm from there. And we've had a lot of success against them."
So which came first—the chicken or the egg, the coach or the ump? "They probably went hand-in-hand," Disbro said. He grew up in tiny Dillsboro, played high school baseball, basketball and tennis at South Dearborn. "I had some guys that were teachers of mine, even back to middle school, and high school teachers and coaches, I just wanted to be those guys, because I liked them so much."
Next came college at Marian University, where he played baseball for the Knights. In intrasquad doubleheaders, he'd pitch one game and be asked by the coach to umpire the second. He also had dabbled in calling American Legion games and whatnot.
He liked the officiating, but he also wanted to coach. So why not both? Here he is, nearly three decades later, still enjoying each of his roles, trying to advance up the IHSAA tournament ladder in both. Doing that in basketball has been a challenge. He's won only one sectional title, but have you seen East Central's path? The Trojans are shipped off 60 miles to the Columbus site, against the likes of Bloomington South, Bloomington North and Columbus North. The year they won the sectional, in 2008, they had to beat all three, including a 19-1 Bloomington South team.
"It was like winning the state championship for us," Disbro said. "It was like Milan."
With a new wife and young stepchildren, he plans to continue both jobs for the forseeable future. East Central has a strong sophomore class coming, so he's looking forward to his 20th season as head coach. "They're letting me do the summer stuff, so I guess I get to do it again," he said.
His two roles have their differences. A tough call as an umpire doesn't stay with him, if he knows he's done his best. A tough loss as a coach? Something else. "They eat me up. I hate them."
Coaching can mean emotional pain but umpiring behind home plate causes the more genuine variety. Such as the time he took a fastball from Greensburg's Alex Meyer, who would end up pitching in the major leagues. "One of those 60-footers that bounced up and got me right there [pointing to above his left wrist]. The trainer thought it was broke and I thought it was broke. That's the one I really remember."
Disbro has endured it all to become a regular at the state finals.
"This baseball stuff, I do it because I love it," he said. "But it's always nice to get to step onto Victory Field and umpire a baseball game."
He's known enough drama there. The first two state finals games he worked went overtime. Ooops. Change that. Extra innings. Hard sometimes to keep these two David Disbros straight.•
__________
Lopresti is a lifelong resident of Richmond and a graduate of Ball State University. He was a columnist for USA Today and Gannett newspapers for 31 years; he covered 34 Final Fours, 30 Super Bowls, 32 World Series and 16 Olympics. His column appears weekly. He can be reached at mjl5853@aol.com.
Please enable JavaScript to view this content.