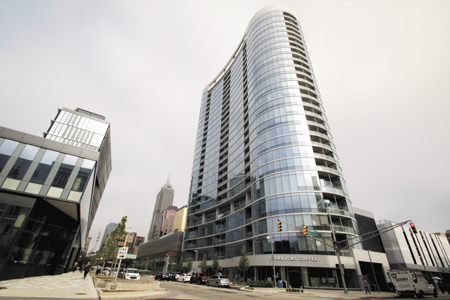 Downtown's 360 Market Square apartment tower opened in March on part of the former Market Square Arena site and is leasing up nicely, but the $120 million project continues to be plagued by legal disputes related to its construction.
Locally based Flaherty & Collins Properties, which built the 27-story residential tower anchored by a 42,000-square-foot Whole Foods grocery, is the latest to point fingers. Its MSA North Developer LLC entity on May 25 sued Indianapolis-based Midwest Constructors LLC and Auburn-based Ambassador Steel Fabrication LLC claiming negligence and breach of contract.
MSA North also is taking its lumps. Since about 2017, at least eight contractors have brought 12 liens totaling more than $8.8 million in work they claim they have not been paid for, according to Marion County filings.
360 Market Square is the latest signature structure in the new Market East Cultural District, taking its place alongside the Cummins distribution headquarters, the Artistry apartment complex, and the Julia M. Carson Transit Center.
The project took three years to complete, slowed in part by disputes with contractors and fairly extensive design changes.
Changes midstream can complicate large projects, which tend to be susceptible to contractor disputes, anyway, a veteran construction attorney told IBJ.
Flaherty's new lawsuit against Midwest Constructors and Ambassador Steel followed a claim Ambassador brought in September against Midwest and the Australia-based general contractor, Lendlease. Three months later, Midwest filed a cross-claim against Lendlease and others, including Boston-based Liberty Mutual Insurance Co.
Meanwhile, Midwest Constructors and Ambassador Steel are among contractors that have filed mechanic's liens against MSA North Developer.
Flaherty & Collins spokesman Brian Moore declined to comment on the litigation or the liens, saying, "We're excited that construction is complete, and Whole Foods is open, with Starbucks soon to follow."
The Seattle-based coffee giant is taking the remaining 2,000 square feet of ground-level space, at the corner of Market and New Jersey streets, opposite Whole Foods.
Above, more than half (55 percent) of the 292 apartments are pre-leased, with current occupancy at 32 percent, Moore said.
High interest in the property has caused Flaherty & Collins to push rents beyond the $2.63-per-square-foot-average opening price, already the highest downtown, said George Tikijian, senior managing director of the local Tikijian Associates apartment brokerage.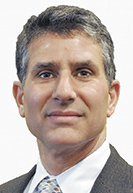 Tikijian
"I didn't know what to expect, but it's exceeding what I expected," he said. "It's hard to know, at that high a price range, how deep the market is."
Monthly rents range from $1,395 for a studio to $2,505 for a two-bedroom apartment, with the most expensive topping out at $6,800, Moore said. Each of the units features floor-to-ceiling windows and a balcony, in a curvilinear-shaped building designed by Baltimore-based CallisonRTKL.
Midwest and Ambassador were involved in placing the post-tensioned concrete for the structure's fifth level, according to Flaherty & Collins' complaint against the two contractors.
Flaherty claims both companies failed to perform obligations under the agreement and caused or contributed to a "blowout" of the concrete in June 2016, requiring costly repairs and causing delays and other damages.
"Some, or all, of the construction defects caused significant physical property damage and delay to the project," Flaherty said in its suit.
The developer is asking for damages to be determined at trial. Moore at Flaherty & Collins declined to comment on how much the company is seeking.
Neal Burnett, executive vice president of Midwest, said his company did not cause the construction problems claimed by Flaherty & Collins.
"To our knowledge, there is no faulty work in that building," he told IBJ. "I think it will bear out that that's not the case."
An attorney for Ambassador declined to comment on Flaherty's charges or on the suit Ambassador brought in September against Midwest and Lendlease.
In that case, Ambassador accused Midwest and Lendlease of breach of contract for failing to pay it $2.9 million of the $6.7 million Ambassador provided in labor and materials, the company claims. Ambassador is suing both Midwest and Lendlease based on a contract Midwest entered into with Lendlease, as well as a pact between Ambassador and Midwest covering the installation of reinforcing steel and systems.
Ambassador in June filed a mechanic's lien against MSA North and Lendlease for the $2.9 million it claims it is owed.
Midwest, in turn, brought a cross-claim in December against Lendlease seeking $809,842 for labor and materials it said Lendlease has not paid. The complaint from Midwest follows its filing in September of a mechanic's lien in the same amount.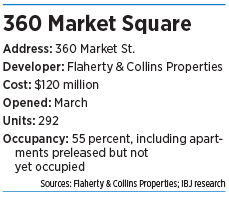 "The project was plagued by delays and one of the causes of the delays was changed drawings," Midwest said in its cross-claim. "Midwest did not cause the delays and the delays had a significant cost impact on Midwest and its subcontractors."
Midwest said that because Lendlease did not pay Pennyslvania-based Maxim Crane Works, the project's crane operator, Maxim shut down its crane, which prevented Midwest from continuing its work. Lendlease also failed to issue a change order for rebar, steel rods used to reinforce concrete, which also affected Midwest's ability to finish its job.
"We've done a lot of complicated and technical structures," Burnett said of Midwest. "This project had a lot of issues that were not caused by us or by any of our lower-tier subs."
Lendlease did not respond to requests for comment.
Midwest Crane Works has filed three mechanic's liens related to the project since December 2016 and is seeking to recoup a total of $1.2 million, according to county filings.
Among the other companies claiming they are owed large amounts are Greenfield-based Irving Materials Inc. ($2 million), and Indianapolis-based Spohn Associates Inc., a manufacturer's representative for architectural design products ($1.2 million).
Construction on 360 Market began in February 2015, roughly the same time as the $30 million, 10-story Cummins project. The much-smaller Cummins building opened in January 2017.
The start of 360 Market immediately was beset by contaminated soil and the project was hampered along the way by materials costs and contractor disputes.•
Please enable JavaScript to view this content.