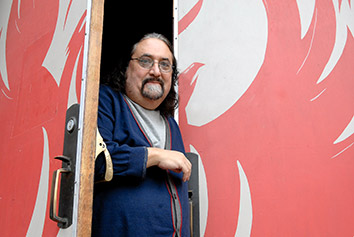 Former Phoenix Theatre producing director Bryan Fonseca announced on Monday that he is launching a theater company on the city's near-west side, following his exit from the local arts mainstay he founded 35 years ago.
The River West Theater Company is preparing to stage its first production in September at the Indy Convergence arts space at 2611 W. Michigan St., at the border of the Hawthorne and Haughville neighborhoods.
Indy Convergence was started by husband-and-wife team Robert and Caitlin Negron in 2008, before they were married. In 2016, they purchased the building, which hosts theater classes, play readings, art exhibitions and more.
Fonseca already had partnered with Indy Convergence through an Arts Council of Indianapolis/Lilly Endowment Transformational Impact Fellowship Grant, which allowed him to spend two years working in west-side neighborhoods.
"The grant allowed me to plant seeds," Fonseca said in a press release. "This new theater will give the community another center to nourish the original project."
River West's first season will consist of four shows. At least initially, the group's repertoire will focus on black, Latin American, Middle Eastern and Asian communities.
"In just 20 years, minorities will be the majority, and it's time for us to understand each other now to work together later," Fonseca said. "Minorities are already the majority voting bloc in some cities, and I'm getting back to artistic basics—working to inform, educate and unite. We will have civic programs as well. I'm cooking up a cultural and political stew, which will create opportunities for the city's artists of color."
Fonseca plans to build a small board of directors, which will be led by Frank Basile. The longtime steward of the arts has provided River West with a "generous lead gift" to get started, Fonseca said.
Basile also serves as board president of the Phoenix Theatre, which Fonseca founded in 1983. On June 1, the theater announced that Fonseca was leaving the organization after 35 years of serving as the group's principal director and main artistic force.
"The board of directors believe that the institution now needs to redirect its energy to a solid fiscal focus," Fonseca said in the announcement of his exit. "That there are other leaders more capable of putting their energies into meeting the remaining financial demands of the institution's capital campaign and future operations. I am leaving to focus my creative energies elsewhere."
 
Please enable JavaScript to view this content.