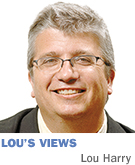 The initial convergence that led to what would become Indy Convergence actually happened in Oregon.

That's where Dance Kaleidoscope dancer Caitlin Swihart in 2007 met actor Robert Negron, a veteran of such West Coast professional companies as The Old Globe and South Coast Repertory. Together with other artists, they hatched an idea for an interdisciplinary workshop that pushed for collaborative creation without concern for commercial output.

What would happen, they wondered, if, say, a playwright, a video artist, a sculptor and a musician got together for a few weeks to try to create something without concern about who would see the final product … or even if there were a final product?

"All of us were at the very early stages of our career and, if you wanted to create something, there was always this fear that it would suck and someone would see it," said Swihart, now Caitlin Negron (her partnership with Robert Negron went beyond Indy Convergence).

"We wanted to create a place that was safe for you to experiment," she said. "The process is what was important. And we wanted to make sure that people across genres weren't just working beside each other but were working with each other."

The program, which took root in Indianapolis in 2008, has attracted artists from around the globe for 10-day, summer intensives that have largely stayed under the radar of local arts audiences—by design.


Now, though, Indy Convergence's profile is rising, thanks to the February 2016 purchase of a building at 2611 W. Michigan St., at the border of the Hawthorne and Haughville neighborhoods, an area that is becoming an epicenter for arts in an underserved neighborhood.

The still-under-renovation building is already being used for theater classes, play readings, art exhibitions and more.

The Phoenix Theatre's Bryan Fonseca, who has partnered with Indy Convergence as part of his Arts Council of Indianapolis/Lilly Endowment Transformational Impact Fellowship Grant, sees the two missions closely aligned.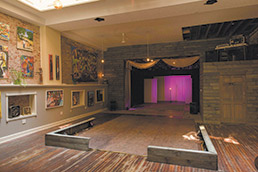 Indy Convergence has now expanded to include a home base at 2611 W. Michigan St. (Photo courtesy of Indy Convergence)
"Anyone interested in how to help neighborhoods grow needs to get behind Indy Convergence," Fonseca said. "They are going to be the center of it on the near-west side."

If you haven't heard about the Indy Convergence building yet, that's no surprise. Whereas other enthusiastic arts creators might have dived right in once a building had been secured and packed it with programming, the Negrons took a very different approach, which they called a "year of listening."

"Instead of moving in and starting programming, we went to all of the neighborhood meetings, the steering committee meetings, the Great Places meetings, and we tried to meet everyone," Caitlin Negron said. "We wanted to figure out who was here, what was going on, and where we fit or didn't fit. We took the time to get to know where we are."

Having one organization provide art-for-art's-sake developmental opportunities for artists while also doing community work can be a challenge.

"That's a question with place-making around the country," said Jim Walker, CEO and co-founder of Big Car Collective. "It's a fine line. How can it be a tool for positive long-term change that's as exciting for the residents as well as the new people coming in?"

Robert Negron learned valuable lessons running an affiliated program at a community center in Haiti, for which Indy Convergence provides visiting teachers who partner with local instructors to share experiences and teach cooperatively.

He said Indy Convergence isn't just about bringing in outsiders, although the summer Convergence incubator remains its signature program. But, in addition, "we've identified small artist collectives and lots of local bands and we're trying to figure out how to collaborate with them," he said.

And Negron wants the building to be active all day. "I'd like to see yoga or movement classes in the morning, switch it over to an art gallery with regular hours, then switch it for a meeting, and then have a show in the evening."

"And, I really want to get some quinceaneras in here," he said, referring to the Hispanic celebration of a girl's 15th birthday.

Caitlin Negron admitted that much of what Indy Convergence is doing is learn-as-you-go.

"If we just opened an art gallery, there are others we could point to," she said. "If we were a theater company, there are models for that. But there isn't a firm model here for what we are doing."

That isn't to say they are proceeding blindly.

"There is a purpose to it," Caitlin Negron said. "We got this space in order to have it as an open, interdisciplinary collaborative art space where we can work with artists and with the community."

And with an $84,000 annual budget, nobody on the payroll, and just a dancer's salary to keep things going, the couple will be living upstairs until the space gets renovated to serve as artist housing.

For Caitlin Negron, who remains a full-time company member of Dance Kaleidoscope, the juggling act can be challenging.

"People get a lot of emails from me at 11:30 at night or 7:30 in the morning," she said. "It feels overwhelming sometimes, but I really wouldn't change anything."•