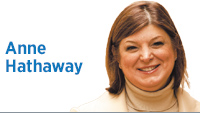 As many of you are aware, I am from a small town in Illinois. Life was simple and idyllic. Front doors and car doors were never locked. Summers were the best. As kids, we rode our bikes to the swimming pool every day and developed deep rich tans without even trying. Dinner was hamburgers accompanied by fresh sweet corn, green beans, tomatoes—all from the garden—and dessert was often homemade ice cream over brownies or chocolate chip cookies. 
In the evenings while hamburgers cooked on the grill, my dad and I would play catch. No matter how tired he was, he would grab his glove and we would throw the softball back and forth. I honed my game and we would bond chatting about what seemed like nothing. 
The halfway point of summer was always the 4th of July. It didn't matter how many days were left until the first day of school, it just seemed that, after the holiday, the days flew by. In my hometown, it was and remains a fun, happy time. The 4th of July is always marked by a parade, softball games, boating and swimming, picnics and fireworks
I vividly remember the days before computer and automated fireworks displays when my dad and other members of the volunteer fire department used long sticks with punks on the end to light the fireworks. The sky lit up with red, blue, green and gold, one burst right after another with a boom thrown in every now and then to keep you on your toes. It was exciting and scary and so cool!
Needless to say, I have great memories of the 4th of July, and as we approach that "midway" point of summer once again, it is important for us to take stock and remember why we celebrate Independence Day. 
We live in the greatest country on Earth. Our forefathers fought and died for our independence, and men and women serve today to maintain that freedom. During the American Revolutionary War, Patrick Henry famously said, "Give me liberty, or give me death!"
At that time, American soldiers were fighting for a new country and a new government. They were fighting for freedom from oppression and freedom from tyranny. These original patriots were fighting for the very future of the land they had grown to love and a life they couldn't even imagine.
More than 240 years later, we take for granted that we live in the United States of America. Through hard work, sacrifice and, yes, a little luck, we each have the opportunity to fight for and live the American dream—to be anything we want to be and to try anything that makes us happy.
Today, while we still have anxiety about national security and politics, the real "wars" are closer to home. Poverty, opioid addiction, access to education, job training and employment, a healthier workforce—these are just some of the issues and new oppressions that need our attention to ensure America remains the greatest country and every American has the opportunity to succeed. 
So, today, while I cherish my memories of past Independence Days and take a moment to thank those who fought for and protected my freedom, I think of the future and stake out new goals and new ways to make sure I am doing my part.•
Click here for more Forefront columns.
__________
Hathaway is president and CEO of Hathaway Strategies, chairwoman of the Julian Center board and former chief of staff of the Republican National Committee.
Please enable JavaScript to view this content.