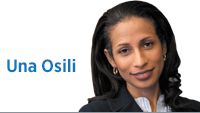 Even after a lifetime of air travel, I felt a heady thrill of anticipation as I boarded my maiden trans-Atlantic Delta 501 voyage from Indianapolis to Paris. It was Indy's first direct flight beyond North America. I arrived at Charles De Gaulle Airport a mere eight hours after departure.
Reaching this historic milestone is worthy of celebration and represents a giant step for central Indiana. Several recent studies show that improved airline connectivity can spur economic development for cities and regions. By moving people and ideas, and not just goods and cargo, direct flights reduce economic frictions and facilitate investment and business ties.
Importantly, direct flights make connectivity easier, avoiding the lost productivity and costs associated with multiple connections required to reach a destination. Direct-flight routes offer an even greater expansion of Indiana's exports and new markets. Last year alone, Indiana's exports amounted to $38.9 billion and grew 8.6 percent.
Beyond the power of direct flights to expand business and financial opportunity, airline connectivity can enhance educational and cultural exposure. To prepare tomorrow's leaders, international courses, study-abroad programs and collaborations on global research projects in the life sciences, social sciences and humanities at Indiana's colleges and universities have multiplied over the past years. Direct flights ease the way for international programs to flourish and make it easier to attract world-class faculty and researchers needed to educate the next generation of Hoosiers.
Geography and ease of connectivity continue to matter, and play an outsized role, even in our technologically advanced world. While cities and regions cannot alter their geography, they can be intentional about air connectivity. For many businesses, civic leaders, educators and students, reducing travel barriers makes good sense. Although we can connect through Facebook, Zoom, Twitter or Skype, these tools cannot replace the power of face-to-face conversation and personal relationships to discover new approaches for growing Indiana's economy.
With more direct flights, Indianapolis has the potential to join the ranks of emerging global cities. Establishing nonstop connections to trading and business hubs will bring us closer to our trading partners, clients, subsidiaries and potential investors in Tokyo, Shanghai, New Delhi, Johannesburg and beyond. We also need direct flights to catalyze knowledge sharing through an expansion in our research and cultural networks.
I benefited from this new connectivity as I traveled from Indianapolis to Paris and then to Berlin. I was in Europe along with colleagues from Indiana University for the global launch of a comprehensive report, the Global Philanthropy Environment Index that provides new insights on the changing landscape and implications for global communities. The Indiana University Lilly Family School of Philanthropy led a workshop with European researchers at the IU Europe gateway office and a public event at the BMW Foundation headquarters.
On my return, I boarded my flight in Berlin and then connected in Paris for my direct flight to Indianapolis. I saw that Indianapolis was listed on the screen at Charles De Gaulle Airport. We had joined the pantheon of global destinations.
We need to envision the Indianapolis-Paris flight as a first step in a new era of global connectivity for Indiana. We cannot rest on this signature milestone. We must analyze costs and benefits and rapidly identify strategic opportunities to improve our air connectivity.
To build the global city of the future, we must keep aiming higher. And, the next time you have a free weekend, you might consider that Indianapolis-Paris flight. The Eiffel Tower is closer than you think!•
Click here for more Forefront columns.
__________
Osili is professor of economics and associate dean for research and international programs at Indiana University Lilly Family School of Philanthropy.
Please enable JavaScript to view this content.