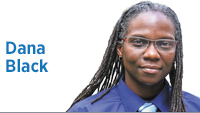 Happy Pride Month!
What, did you think you were going to go an entire June issue of IBJ and not have someone talk about Pride month?
Imagine if you will, you and a few of your friends are hanging out at your favorite local bar having a few drinks, enjoying a few laughs and living life. But you are doing so in a time when, at any moment, the police could come in and raid the establishment and haul you off to jail. Why? Because who you are, who you were born as, is considered illegal.
Yes, this was happening all over America and in New York specifically at the Stonewall Inn. Gay men, women and trans folks minding their own business, keeping to themselves only to be harassed by police for living their lives as they do.
Sound familiar, black folk?
But on June 28, 1969, those patrons said enough is enough and fought back, and that fateful night became known as the Stonewall Riots. The Stonewall Riots are considered the beginning of the gay rights movement in America that has flourished for the past 50 years.
Some of my straight friends often question the necessity of celebrating gay pride and ask condescendingly why there is no straight pride. For many in our community, it is not easy to be out and live life authentically. Oh let me tell you! They still fear repercussions from those who claim to be Christ-like, follow the word of Moses or live for Allah. They fear they will become the victim of a hate crime and the justice system in Indiana will simply turn its back on them. Why on earth would straight people want to trade places with gay folk being denied housing, denied job opportunities and being looked upon like the devil resides in our eyes?
But when we are out, the world sees us. Although many will try to deny our existence, the fact that we stand strong is proof that no matter how some try to harm or silence us, we will not go away.
While Republicans fight over wording in their party platform about what types of families they are willing to support, I wake up every morning, put on my tie and work to make Indiana a better place for all Hoosiers—regardless of their family makeup. I challenge Republicans: How can one of your core values be "… individual liberty and freedom," yet you work so tirelessly to deny those liberties and freedoms to people who don't walk through the world as you do? How can you say you "…believe in the sanctity of life" but turn a blind eye to bullying of young LGBTQ+ folk in our community, to the point that suicide rates are highest among this group?
We celebrate pride because we are here and we have value. We are no longer willing to live in a country or state that proclaims to be free with opportunities for all, where we pay our taxes and yet are denied basic human rights. We fight either in the streets or in the courts for the same rights the rest of America enjoys—and that is something to be proud of.
The best part of being an American is understanding our country is not a perfect union, but we have the opportunity to work every day to be a more perfect union. Celebrating Pride Month just makes it more perfect.•
Click here for more Forefront columns.
__________
Black is deputy chairwoman for engagement for the Indiana Democratic Party and a former candidate for the Indiana House.
Please enable JavaScript to view this content.