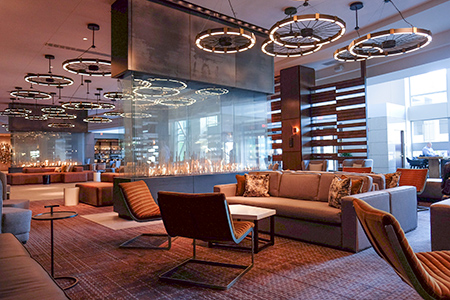 Bruce White, founder, chairman and CEO of White Lodging Services Corp., fondly remembers when he became infatuated with the hotel industry.
It was May 1969, and White was in high school. His father, billionaire billboard advertising company owner Dean White, was opening a Holiday Inn in the family's hometown of Merrillville. Which is why Bruce White and a gang of his school buddies found themselves frantically putting furniture in the guest rooms just hours before the place opened.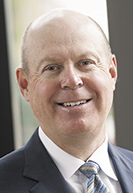 White
"At about 3 p.m., the manager came to us and said, 'My God, I forgot to hire any busboys—can you guys help out tonight?'" White recalled. "We immediately went from construction laborers to busboys. On that first night, even though it was chaos, I literally fell in love with the hospitality business."
But though his devotion to the profession endures to this day, he's definitely no fan of chaos. Since White founded White Lodging in 1985, the privately held company has gained a reputation for delivering new hotels on time, and for managing them without a surfeit of drama.
White has used a laser-like focus to build, own and manage hotels franchised from everyone from Hyatt Hotels to Hilton Worldwide to InterContinental Hotels Group. The Merrillville-based company operates 93 properties across the United States—from smallish-budget hostelries to 1,000-room convention hotels.
"They're really well-regarded within the industry," said Jeff Weinstein, editor-in-chief of Hotels magazine. "They partner with high-profile developers, they've been a very successful business, and I think they're very respected among their peers."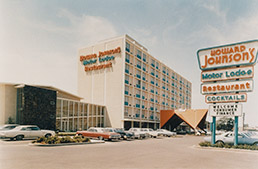 White Lodging purchased a downtown Indy Howard Johnson's Motor Lodge and later made it a Fairfield Inn and part of the Marriott IndyPlace at Washington and West streets. (Photo courtesy of White Lodging)
Though White's father, who died in 2016, was indeed a billionaire, his son still started more or less on the ground floor. In the beginning, White Lodging strictly was a management company, meaning it contracted to oversee hotel operations but didn't own any. Its first client was his dad's Holiday Inn, followed a few years later by a couple of hotels he bought in Warsaw and Evansville. It was steady money, but hardly a bonanza.
"For years, the company was myself, an accountant, and a secretary," White said.
For his first foray into development, White and several partners built six Carleton Lodges, primarily in northern Indiana. The big break came when White was invited to meet John Willard "Bill" Marriott Jr., chairman of Marriott International, to be considered as the first franchisee for Fairfield Inn, Marriott's economy line.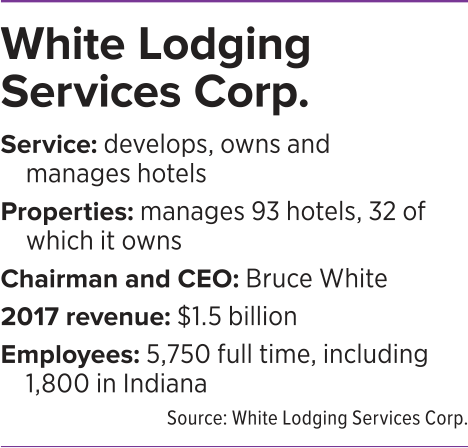 It was by no means a sure thing. The prevailing sentiment at Marriott, White said, was that franchising would ruin the company's good name. Marriott would lose control of quality, and franchisees wouldn't know how to run a successful service organization.
"When I walked in, everybody looked at me like I was carrying the plague," he recalled.
He won over Marriott executives by flipping the script. When Bill Marriott asked White what concerned him about affiliating with Marriott, he answered somewhat cheekily that he worried Marriott couldn't operate its own hotels as consistently as franchisees could. White asserted that a group of highly motivated entrepreneurs with skin in the game, if given the chance to use the Marriott name and resources, would in no time outperform company-managed hotels.
"And, in fact, that ended up becoming true in a relatively short period of time," he said.
Rapid growth
White Lodging soon was knee-deep in Fairfield Inns. Assistance from Marriott, in the form of debt guarantees, helped the company put together more deals at a rapid clip. In 2006, the company vastly improved its cash flow—and financial footing—by selling 99 hotels for $1.7 billion to Robert L. Johnson, the founder of Black Entertainment Television. White retained the management contracts until selling them in a recent deal. It earned another nice chunk of change to plow into further developments, and also took a gaggle of older, smallish hotels in secondary markets off the books.
Today, the company's development efforts continue apace, with projects recently opening in Louisville, Chicago and Denver, and additional hotels under construction in Austin, Louisville and Fort Wayne.
It's a good time to build. The U.S. hospitality industry, which surpassed $200 billion in revenue in 2017, is booming.
But that doesn't mean there aren't challenges. While bookings are solid and business travel is humming along, the historically low unemployment rate has made finding qualified hotel staff—never easy, even under the best circumstances—even tougher.
White Lodging battles the problem by spending considerable time and resources on staff training.
"If you don't, you're going to have a very low rate of retention," White said. "Instead of focusing on customers, you're in a cycle of failure where you're just endlessly turning over undertrained people. It's a constant challenge."
Deno Yiankes, the company's president of investments and developments, could serve as poster boy for White Lodging's approach. He joined the company back in the '80s when he worked his way through college by serving as a line cook, bartender, front-desk staffer, and eventually supervisor at the Merrillville Holiday Inn.
"I learned at a very young age not only the importance, but ultimately the value, in operational training and retaining what we call 'A talent,'" Yiankes said. "It's mission-critical. I have not seen a hospitality organization survive, let alone thrive, without a sincere commitment to training and working to retain and grow their associates."
Investing heavily in staff retention is just one thing White Lodging, as a privately held company, can do that publicly traded companies focused on the next quarterly statement can't.
For another, unlike many of its peers, it owns hotels outright. Its portfolio includes more than 30.
Many publicly traded hotel companies actually own very few. Their bread and butter is selling franchises and holding long-term management agreements for existing operations.
Publicly traded hotel firms "discovered that Wall Street simply doesn't value real estate assets," Hotel magazine's Weinstein said. "Many simply have long-term managing agreements, which are perceived as steady and safe."
Broad base
Yiankes asserts that owning property is part of the company's DNA and will remain so for the foreseeable future.
That said, he notes that the skills needed to figure out where to develop hotels and then build them are very different from those required to operate and manage properties effectively.
That's why the firm teams with development partners—including Indianapolis-based REI Real Estate Services.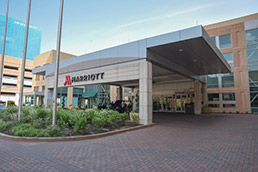 Indianapolis Marriott Downtown (IBJ photo/Eric Learned)
The firms partnered in 1999 to build the Indianapolis Marriott Downtown and have since done more than 40 hotels together across the country. REI typically identifies potential sites and works with landowners and local governments. Then the two entities do the development together and split ownership, with White Lodging managing the hotel.
"They're extremely focused on the fundamentals of hotel development and operations," REI President Mike Wells said. "They have the ability to do deals that others can't, because they're so strong and have such a great track record. That's one of the things that's been very helpful for REI."
White Lodging operates six Indianapolis hotels, most notably downtown's 34-story, blue-glass JW Marriott.
Interestingly, though the company has a deep presence locally, it's more interested in higher-growth markets, most of which are in the South.
"We're heavily invested in Indianapolis, but to be candid, that's much more because of our Hoosier roots than it is from a strategic perspective," White said.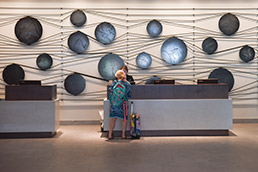 Indianapolis Marriott Downtown (IBJ photo/Eric Learned)
"If we weren't based here and very proud to be Hoosiers, we probably wouldn't be as invested in the state as we are. But we're very proud and thankful for our growing involvement over the years."
These days, however, the company is focused on places like Austin, Texas, and South Florida. Ideally, it wants to enter markets with medium- to high-growth prospects, then develop not just one hotel but several, up and down the value chain.
That saturation tactic, White said, gives the company insight into local markets, plus greater development clout.
"We generally have between half a billion and a billion dollars under active, new development in any given year," he said.
In addition to opening about 15 properties in the last 18 months, White, 65, is focusing on preparing the company to become a multi-generational family-controlled business.
Though two of his children work for the firm, he said it's not a given that a White always will sit in his chair.
"With private ownership and family control, we can stay true to our core beliefs and philosophies, and not get taken off track by shorter-term events," he said.
"But family involvement does not necessarily mean managing the company. It really means being the steward and providing an effective ownership support to the management organization."•
Please enable JavaScript to view this content.