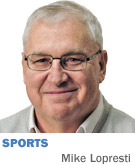 Anyone here know an Iceland fight song?
It's this World Cup business. The Yank-less tournament is rolling now in Russia, and you've been looking for someone to root for, right?
Let's say you're a casual soccer fan at best. You like the colors and the passion and the announcer shrieking, "Gooooalllll!!!!" You like the fact—since the pace of baseball can sometimes lose in a race with a glacier, and a man could grow old in the last two minutes of a basketball game—that soccer's clock moves right along.
Oh, you couldn't explain offside if someone paid you, and there are only so many 1-1 ties you can take. Also, there's always the danger of an outbreak of vuvuzelas.
But you're on board once every four years. You had your red, white and blue scarf from the last time, and you were all ready to root for the good ol' USA, except the good ol' USA didn't make the cut. Now you're wondering—after watching all the SUVs filled with soccer kids pouring into Grand Park Sports Campus every weekend—why this country can't find 11 guys who could beat Trinidad and Tobago.
But the show has gone on in Russia, and since you were in the World Cup mood, you're looking for a fan club to join. But who?
A good nickname, maybe.
Perhaps the Australia Socceroos, or Egypt Pharoahs. The Morocco Atlas Lions or Nigeria Super Eagles. Maybe those names aren't as good as the Frankfort Hot Dogs or the Speedway Sparkplugs, but they ain't bad.
Partial to an underdog story? No shortage of those making trouble. Surprise seemed all the rage in the early going.
Brazil has won as many World Cups as the Patriots have won Super Bowls, but Switzerland tied the Brazilians in their first match. Chocolate bars on the house!
Defending champion Germany, trying to be the first repeat Cup holder in 56 years, was stunned by Mexico. They say there was such a mass reaction of joy in Mexico City when the winning goal was scored, it made some seismometer needles jump. That hasn't happened in Indianapolis since they announced beer sales on Sunday.
The German team, by the way, was so upset with the thumping it took in the newspapers back home, it canceled the next media session. "Fiasco instead of Fiesta," was one pertinent headline, above a story that called the players "wimps." And Virginia thought it got bad press for losing to a No. 16 seed in the NCAA Tournament.
But we can't root for Mexico, can we? That'd be like someone from Ohio wearing Michigan maize and blue. That's our soccer rival. Except they're in Russia, and we aren't.
There's an answer to this dilemma.
Iceland!
Strakarnir Okkar, as the team goes by. Our Boys.
Our Boys had never played in the World Cup before but tied Argentina in their debut the other day. That really shook the soccer pitch. And here's one reason why. Iceland is not only the smallest nation playing in this World Cup, it's the smallest nation to ever play in any World Cup. The population is 330,000 and change. Wichita is bigger than that.
So we should be all in for Heimir Hallgrimsson, who's the coach. When he isn't coaching soccer, he's a dentist and has said he finds it relaxing. Some guys golf for leisure, others do root canals. And for Hannes Halldorsson, the man in goal who stymied Argentina, and who also has directed small film projects to pay the bills. And Gylfi Sigurdsson, the team leader. And Birkir Saevarsson, who works at a salt packing factory. Can the Colts roster match that?
Iceland could fit inside Ohio, with Toledo to spare. But Our Boys are playing with the big guys, eager to shock the world. Iceland is Milan. Who should appreciate that more than Indiana?
Not a lot of famous sports stories from Iceland, unless it was Bobby Fischer beating Boris Spassky in chess in Reykjavik. Looking over the all-time Winter Olympic medal table, we find that Iceland has won …
None.
Wait a second. None? How can a country named Iceland never have won one single Winter Olympic medal? Actually, there isn't that much ice in Iceland. You want frozen tundra, go to Greenland.
What Iceland has are soccer players, and a dentist to lead them. They were scheduled to play Nigeria Friday, Croatia next Tuesday. Our Boys have no fear. This is Hoosiers, with corner kicks. We just don't know who Bobby Plumparsson is yet.•
__________
Lopresti is a lifelong resident of Richmond and a graduate of Ball State University. He was a columnist for USA Today and Gannett newspapers for 31 years; he covered 34 Final Fours, 30 Super Bowls, 32 World Series and 16 Olympics. His column appears weekly. He can be reached at mjl5853@aol.com.
Please enable JavaScript to view this content.