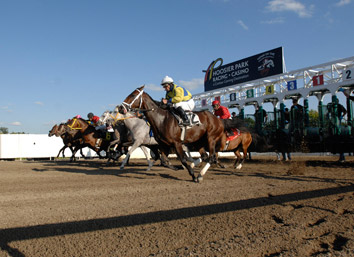 The owner of two horse track casinos near Indianapolis is preparing to pay a disputed $50 million state fee as part of its sale to casino giant Caesars Entertainment Corp.
Las Vegas-based Caesars and Centaur Gaming of Indianapolis fought paying the casino license transfer fee after the companies announced in November a $1.7 billion deal for Caesars to buy Hoosier Park in Anderson and Indiana Grand near Shelbyville.
Emails obtained this week by IBJ between Caesars attorneys and the Indiana Gaming Commission indicate that the fee will be paid "before or at the time of the closing" of the acquisition. 
In one of the emails, Elizabeth Cierzniak, a partner at Faegre Baker Daniels LLP representing Caesars, asked if the payment needed to come from Hoosier Park or Centaur prior to the closing or from Caesars at closing. A response from Indiana Gaming Commission Executive Director Sara Gonso Tait dated Tuesday said the payment could come from Hoosier Park or its affiliates before or at closing.
Caesars had argued that a $50 million transfer fee should not be applied to its acquisition of Centaur.
According to state law, the initial casino license holder is required to pay a $50 million transfer fee when the controlling interest in the license is sold. The law has a few exceptions that would waive the fee, including a transfer resulting from bankruptcy by the initial license holder.
The initial license holders for Hoosier Park and Indiana Grand were Hoosier Park LP and Indianapolis Downs LLC, respectively. Centaur was the parent company for Hoosier Park LP.
In 2010—two years after the licenses were issued—Centaur filed for Chapter 11 bankruptcy. The bankruptcy plan created new entities to oversee Centaur's holdings. This included transferring the license for Hoosier Park from Hoosier Park LP to Hoosier Park LLC.
The $50 million transfer fee did not apply at that time because the arrangement was a result of Centaur's bankruptcy.
During the gaming commission hearing for the Hoosier Park fee, Centaur asked the commission to include a provision in the order that stated the fee would not apply to future transfers, but the commission denied that request.
In April 2011, Indianapolis Downs LLC also filed for Chapter 11 bankruptcy, and in 2013, Centaur acquired the license and rights to Indiana Grand for $500 million.
The $50 million fee also did not apply to that transaction because it again involved the initial license holder, in this case Indianapolis Downs, filing for bankruptcy.
In January, Cierzniak emailed Tait a memorandum arguing that the fee should not apply in either case because the transactions do not involve initial license holders.
However, after researching the issue, staff at the Indiana Gaming Commission disagreed.
Caesars had threatened to not build a new $90 million on-land facility for its Horseshoe Southern Indiana casino near Louisville because of the fee, but began construction earlier this month.
The Indiana Horse Racing Commission is expected to vote on the acquisition Wednesday.
Please enable JavaScript to view this content.