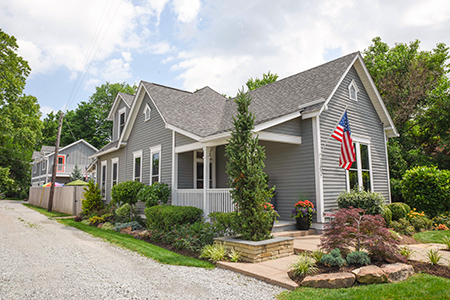 The Cottage Home abode of Mass Ave restaurateur Bill Pritt looks positively petite from the curb. But the structure is far grander than its facade indicates.
"It's very unassuming from the street," said Pritt, owner of FortyFive Degrees restaurant and next-door high-end coffee/pastry/frozen yogurt shop Yogulatte, in the 700 block of Massachusetts Avenue.
"But when you come inside, it's very different," he said. "It looks like a little house, but it just keeps going and going."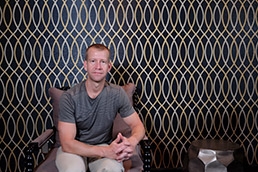 Bill Pritt, homeowner (IBJ photo/Eric Learned)
The two-story structure, built in 1900 (and with numerous add-ons since) covers approximately 2,000 square feet—not counting a recently constructed carriage house that features both a large first-floor garage and a 750-square-foot upstairs apartment.
It's this smallish apartment that Pritt, who's single, now calls home.
"It's got everything you need, but nothing you don't need," he said. "For one person, this is ideal. I wouldn't want to live anywhere else."
Though he only recently moved into the carriage house, he's owned the main house for 16 years. He visited some 30 properties before selecting it, mostly on the strength of its near-downtown location. At the time, however, the neighborhood was still rough around the edges. During the early days, he was robbed three times—a problem he solved by acquiring a Rottweiler named Baron. A large portrait of the dog, who died a few years back, graces his living room.
The main house had already been renovated by its previous owners, but over the years Pritt has left his own mark. In 2013, he created the home's massive kitchen by knocking out a wall that separated the original food-prep area from the dining room. The new, larger space includes a massive granite bar and cooking station.
"I wanted a more open space and something that was built for my everyday needs," Pritt said. "I wanted a kitchen that had every amenity I could want."
A ceiling-spanning beam replaces the load-bearing wall that once separated the kitchen and dining room. It also marks the farthest extent of the oldest part of the house, which includes the living room and one of the two downstairs guest bedrooms. The space's original pine plank floors were kept intact, and to match them in the addition, Pritt brought in reclaimed wood from a Pennsylvania home.
"You can still see the difference, but not really," he said. "It matches pretty well."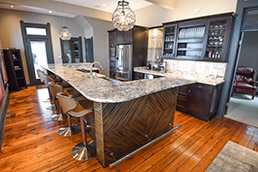 The kitchen in the main house, above, served as inspiration for the apartment kitchen, which has similar finishes and the same leather stools. (IBJ photo/Eric Learned)
Most of the rest of the first floor is occupied by two guest rooms, between which sits a tiled, modern-looking bathroom. Upstairs is a large master suite, which until recently was Pritt's center of operations. But all that changed when he constructed the carriage house.
Reached via a small, immaculately maintained back yard equipped with a hot tub, fire pit, privacy fence, and a patch of "lawn" roughly the size of a putting green, the carriage house has evolved into Pritt's primary residence.
"It didn't start out that way," he said. "Originally, I just wanted a bigger garage."
The first floor is, indeed, a garage, and it holds his motorcycle, pickup and a pristine 1972 Pontiac Grand Prix that belonged to his grandfather. But at some point during the construction process, Pritt decided he wanted to add an upstairs apartment. And then, about three quarters of the way through the work, he decided he wanted to move in. "I thought, 'I think I want to live back here, just for the hell of it,'" he said.
His upstairs quarters include a small living room, a kitchen that looks like a compact version of the one in the main house (he even uses the same leather stools), and a master suite with a bedroom, walk-in closet, bathroom, and work area.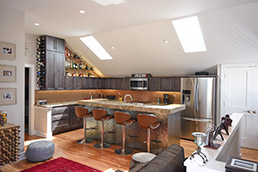 The apartment above the garage is small but has a high-end kitchen and bath, and the apartment has bamboo floors. Pritt said it's plenty of space for him. (IBJ photo/Eric Learned)
"I moved my office here, which actually works out great," he said. "I can roll right out of bed and get to work."
The sleeping area is separated from the rest of the apartment by a sliding door made of repurposed barn wood. Pritt tried to get along with no door, but found he needed one to keep the morning light from streaming into his bedroom.
Though apartment life has its advantages, Pritt still uses the main house for entertaining. And the living room, with its 70-inch TV, is perfect for watching movies. He can walk, or ride his motorcycle, to work, and can clean the entire apartment in just 20 minutes.
"I love it here," Pritt said. "I wouldn't change a thing. After 16 years, I think I've tweaked it as much as I can."•
Please enable JavaScript to view this content.