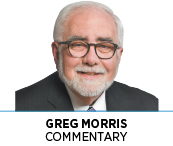 The Indiana General Assembly's one-day special session in May tackled some issues and assigned others, such as legalizing medical marijuana, to summer study committees.
I hope the Interim Study Committee on Public Health, Behavioral Health and Human Services is open to the guts of House Resolution No. 2, which was introduced in January and can be read on the Indiana General Assembly website—iga.in.gov (2018 session).
Thanks to legislators for taking a serious look at this topic. No, they're not considering legalizing recreational marijuana, and I'm not advocating that they do. But it's time to recognize the drug offers more than a cheap high.
Patients with a debilitating condition who would stand to benefit from marijuana use and who have a doctor's authorization should be able to obtain the substance from a registered not-for-profit dispensary to treat their condition.
What constitutes an approved debilitating medical condition? Let's try these as discussion starters: cancer, glaucoma, HIV/AIDS, Hepatitis C, ALS, Crohn's disease, Alzheimer's disease, cachexia or wasting syndrome, severe and chronic pain, severe nausea, seizures (including epilepsy), severe or persistent muscle spasms (including multiple sclerosis) and post-traumatic stress disorder.
There are certainly others that could be approved by the Indiana State Department of Health.
Maybe the law specifies that a registered patient's use of medical marijuana is to be considered equivalent to the use of any other medication under the direction of a physician. And what if the law specified that employers can't discriminate against registered patients unless doing so would cost the employer money or licensing under federal law?
The law should limit the registered patient and any designated caregiver to a few ounces at any one time, or it could limit the quantity to a "14-day supply," for example.
And of course, the state needs to figure out how to fund, through fees or taxation, the regulation and oversight of this new industry.
I admit that what I've provided is a simplistic overview of how the process would work, without wading too far into the weeds. (Please pardon the pun.) Many of these details are loosely based on existing Arizona laws, with some other states' verbiage thrown into the mix.
Medical marijuana is legal today in 29 states and Washington, D.C. We don't have to be a pioneer on this front. Plenty of existing legal structures are in place to provide sound counsel and guidance.
One bit of good news on the potential for relief for kids who need it is that, on June 25, the FDA for the first time approved a cannabis-based drug. The drug, called Epiodiolex, will be used to treat two rare forms of childhood epilepsy.
Indiana Attorney General Curtis Hill, who is on record against legalizing marijuana, praised the process the FDA used to approve Epiodiolex, and suggested any further forays into the use of marijuana as medicine should go through the same FDA process that produced this drug.
With all due respect, sir, I don't believe we can wait on federal government approval of medical marijuana. Left up to the FDA, maybe my grandkids could benefit when they get old. This issue has been addressed in 29 states and the time for Indiana to move on this issue is now.
Thoughtfully study best practices now, change the law in the 2019 session, and implement in 2020. Sounds like a plan.•
__________
Morris is publisher of IBJ. His column appears every other week. To comment on this column, send email to gmorris@ibj.com.
Please enable JavaScript to view this content.