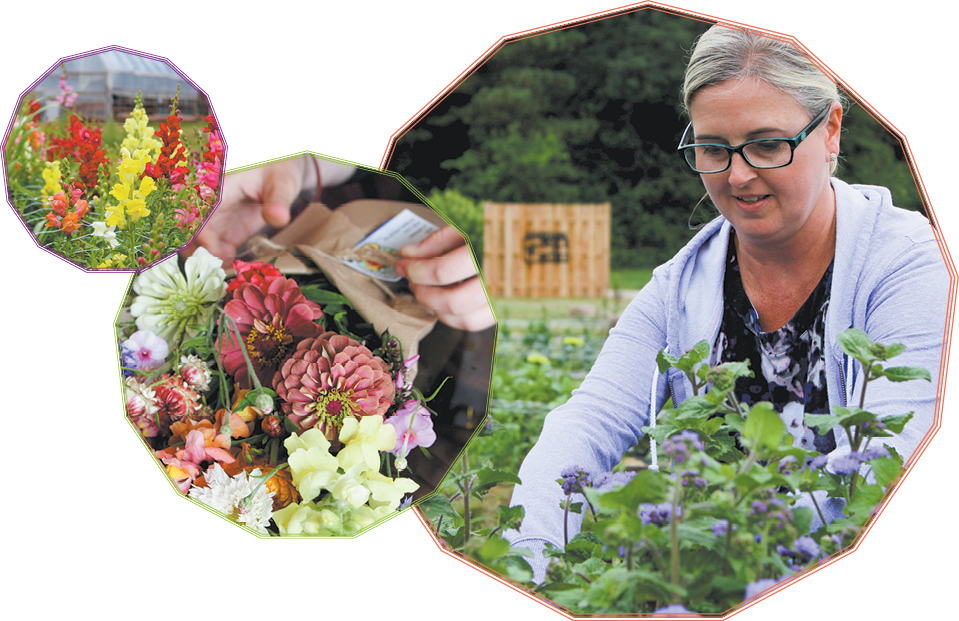 Regular visitors to the u-pick P&D Flower Farm might recognize three figures when they pull down the long, mulched drive and land at an unmarked lot.
A man with white hair, glasses and a canvas hat sits on the porch of the pastel yellow shed he built by hand. Nearby, his wife, wearing dark sunglasses that match her brown hair, exits a golf cart. The couple's orange-haired Pomeranian, Rocky, follows at her heels.
They are the heads of the family behind the public flower farm hiding in plain sight, tucked into the northeastern corner of Johnson County.
Phil and Dawn VanBlarcum married in 2013. Around that time, the pair, now with six children between them, decided to exchange their busy pace for a life in Indiana's "ecological dream," said Phil VanBlarcum.
They packed up their suburban home in Greenwood and moved east to a 10-acre property just south of Acton.
The VanBlarcums' goal was to "slow down" and get "back to the basics," the couple said. They wanted to grow, preserve and eat their own food, and buy from neighboring farms what they couldn't grow themselves. But they have yet to master the art of the easy life, they said.
On top of running their farm—where customers can pick flowers and create custom bouquets—Phil and Dawn, both 48, work full-time jobs. Phil works at a printing-production facility while Dawn teaches sixth-grade science.
"I think between the two of us, we've learned how to maximize the other's strengths," Dawn VanBlarcum said. "He can have a vision for the layout of the field and know how to make all of that happen."
Phil and Dawn relied on that balance when they transitioned their family operation into the
public flower farm in 2014. Neither had experience in agriculture.
Now, one personal flower bed has extended into several rows carrying dozens of flower varieties. The farm has used social media, including guest features on its Instagram feed, @pdflowerfarm, to make a name for itself. It also decorates Greenwood restaurants Revery and Brozinni Pizzeria with fresh bouquets that advertise the farm.
Guests arriving at P&D Flower Farm receive a tall, black, plastic bucket of water and a pair of shears. From there, they walk the rows and can pick flowers at their leisure, until they're ready to have their custom bouquet hand-wrapped in parchment and twine.
Most stems cost $1 each. The farm also offers a floral-arrangement service that can be scheduled ahead of time.
"Not only do we invite people to our farm to pick a quick bouquet of flowers, but we encourage you to spend some time with us," the farm's website says.
For some, that might be as simple as a picnic. But last year, the VanBlarcums created an event space, tucked between the flower rows and a five-acre field.
The VanBlarcums also erected several posts and strung up strands of vintage Edison-style bulbs, set to illuminate a wedding space.
P&D Flower Farm typically charges $3,000 for a wedding, if the couple needs tents provided for a reception. If not, the price halves to $1,500. The owners help couples plan the ceremony and decorations, as well as provide security.
"It takes a village. It takes a family. All of the boys help," Phil said about the new venture. His son's girlfriend, 18-year-old Jordan Brewer, also joined the effort as lead event planner.
The VanBlarcums said weddings generate the most revenue for the farm; they limit ceremonies to two per weekend in the summer and one per weekend the rest of the year, when Dawn is teaching. Their primary goal, they said, is to give couples a more affordable venue for their big day.•
______________________________
Avon resident Cheri Weisheit spent an evening at the farm with her husband and daughter during its summer solstice sale. (IBJ photos/Erica Irish)
Please enable JavaScript to view this content.