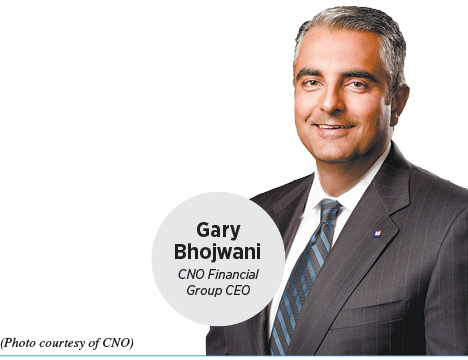 Gary Bhojwani's history in the insurance industry goes way back.
In January, he became CEO of Carmel-based CNO Financial Group, which offers health and life insurance and retirement-oriented financial products through subsidiaries Bankers Life, Colonial Penn and Washington National.
More than 1,200 employees work for CNO in Carmel, and the company reported $4.3 billion in revenue, and $301 million in profit, in 2017.
Bhojwani, 50, oversees CNO from his home in Chicago, which is also home base for life- and health-insurance company Bankers Life. The company's Colonial Penn life insurance business is based in Philadelphia.
His path to the industry started in college, where he earned a bachelor's degree in actuarial science from the University of Illinois. He went on to earn an MBA from the University of Chicago's Booth School of Business.
But Bhojwani said he didn't grow up dreaming of a career in insurance, and he said one of the things he has come to like best about the field now has nothing to do with numbers.
Did you know before you entered college that you wanted to work in insurance?
Actually, it's a little bit of a funny story. I tell people I went to college to learn what I didn't want to do. … I started out as an engineer, and about my second year of college decided I didn't want to be an engineer.
So, a college counselor recommended you switch to actuarial science because you were good with numbers. At that point, did you start planning for a life-long career in insurance?
In my 19-year-old brain, I didn't put all that much forethought into it at the time. It was not part of a grand plan.
Once you entered the field, what kept you interested? What do you most enjoy about working in the insurance industry?
We get to help people. Most of the time, we're helping them at a really bad time in their lives.
What do you see as CNO's biggest area of opportunity?
The biggest thing that makes us different is also our biggest area of opportunity, and that is our focus on the middle-income market. … There are so few opportunities for them because companies don't really provide pensions anymore.
What impact do you think blockchain technology will have on CNO going forward? Proponents say blockchain could revolutionize many areas of business, including how contracts and agreements get executed.
It's going to be very significant. … We're waiting and watching.
CNO has had a naming-rights agreement with Pacers Sports & Entertainment since the fieldhouse opened in 1999—first, under the name Conseco and, since 2011, under the Bankers Life name. Why did CNO decide not to renew after its naming-rights contract expires next year?
We're very pleased we achieved most of our sponsorship and marketing objectives. We're in growth mode now and decided to deploy that capital elsewhere rather than use it to renew our naming-rights contract.
Will CNO continue to sponsor the team in some way, even after its naming-rights contract expires?
We're still in discussions with the Pacers. … It really depends on who that naming-rights sponsor is.•
 
Please enable JavaScript to view this content.