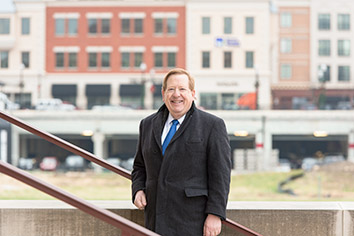 Carmel Mayor Jim Brainard has confirmed that he will seek a seventh term in 2019.
The 64-year-old Republican told IBJ on Thursday that he hasn't made a formal announcement, but he has been telling anyone who asks him that he will run again.
"Absolutely, I love my job," Brainard said. "I've gotten a lot of encouragement to do it."
Brainard was first elected in 1995 when he successfully challenged Republican incumbent Ted Johnson. He's had a primary opponent in the Republican-heavy suburb every election since, but no opponent has come close to defeating him.
In 2015, Carmel City Council President Rick Sharp ran against him, but Brainard received 62 percent of the votes in the Republican primary election. In 2007—the last time Brainard had a general election opponent—he received 66 percent of the vote against Democrat Henry Winckler and independent Marnin Spigelman.
"I've had one every time and I've won every one handily," Brainard said of election opponents. "We'll be well prepared."
Since Brainard has been in office, Carmel has grown and changed tremendously. The population has increased from about 25,000 residents to about 91,000, and Brainard has overseen the redevelopment of what have become some of the suburb's most prominent areas, including the Arts & Design District and City Center.
The Allied Solutions headquarters has already opened in his latest redevelopment area—Midtown—and several other projects in that area are underway or nearing completion, including Sun King Distillery, which opens Monday.
But Brainard is arguably most well-known for his efforts to replace traditional intersections with roundabouts throughout the city. Carmel has more than 100 roundabouts now—more than any other city in the U.S. Brainard argues that roundabouts are better for the environment and for safety.
At times, Brainard has been criticized for his spending on projects including the Palladium at the Center for the Performing Arts, the redevelopment of Keystone Parkway and the proposed carousel that he wanted to bring to the city.
But Brainard has repeatedly defended the spending by saying it's necessary to continue improving the quality of life in the northern suburb, and he says, high quality of life helps attract corporate headquarters.
Brainard said he wants to continue the work that he's started in previous terms—keeping property taxes low, fixing the remaining congestion issues and further beautifing the community with more park space and trees.
He said he's already been fundraising for the campaign, and those efforts are going well.
"You never stop," he said. "We try to do a series of events every year."
At the end of 2017, Brainard had $74,300 in his campaign account, according to finance records.
If elected, he would continue to be Carmel's longest-serving mayor, but he still would not be the longest-serving mayor in Indiana. Scottsburg Mayor William Graham has been in office since 1988.
Please enable JavaScript to view this content.