Marty McDermott has worked the floor of his south-side furniture store more than 40 years, usually seven days a week and 10 hours per day, and he's never seen business this slow.

Plenty of customers still file through Martin Fine Furniture, but most say they won't take the plunge on a new sectional or dinette set until the economy improves or they feel more secure in their job, McDermott said.

Furniture is one of the easiest big-ticket purchases for consumers to defer when money is tight. Couple that with a housing bust that left demand for new couches on the curb, and tight credit markets that continue to prevent retailers from financing customers without perfect credit, and you've got the worst market for furniture since the Great Depression.

"We've been hit with a triple whammy and we don't have the government buying our clunkers," said Jerry Epperson Jr., managing director of Mann Armistead and Epperson Ltd., a Richmond, Va.-based investment firm that specializes in home furnishings and has published a monthly newsletter on the topic for more than 35 years.

Furniture sales this year are down about 19 percent, or more than $2 billion, from a 2005 peak fueled by the housing boom. Many retailers have slimmed their inventories and begged banks for loans to help them survive. Some local stores including Gerdt and Kittle's saw modest sales improvement in August, but not all will make it to 2010.

For McDermott, 77, the slow pace of sales means waking up a little earlier for his daily bowl of Wheaties and orange juice so he can have more time to turn shoppers into buyers.

He used to have five locations but closed the outposts about 10 years ago, tired of the hassle, and stuck with the main Martin Fine Furniture showroom at 5420 U.S. 31 South. The city's oldest furniture store, it was founded by McDermott's great-grandfather in 1854.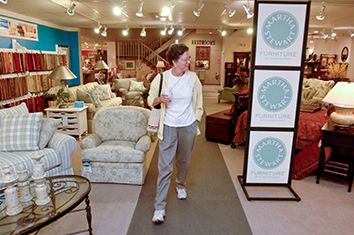 A shopper peruses the Kittle's Furniture showroom in Castleton. Local retailers report sales are beginning to stabilize after a nasty drop. (IBJ File Photo)
"If I'm overworked, I just fall asleep in a chair somewhere," said McDermott, who gets a ride to work every day with one of his children. "If the place fills up with customers, they just shake me and I go."

Stores shut down

Several furniture chains have shut down this year, including Columbus, Ohio-based Sofa Express, which in January closed its four central Indiana stores. The biggest locally based furniture retailer to fold was Indianapolis-based Today's Bedroom One and Mattress Gallery chain. A Marion County judge in March ordered the 16-store chain liquidated after the owners missed multiple payments on a bank loan.

The closings don't necessarily boost surviving retailers since new competitors always are eager to enter the market. Howell, Mich.-based Mattress World acquired seven former Mattress Gallery locations and reopened them as Mattress Worlds in June. And Lombard, Ill.-based The RoomPlace has opened stores this year in Avon, Castleton and Greenwood.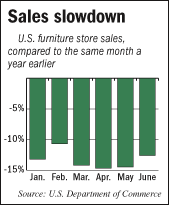 Epperson expects another wave of closures next year. The problem: Many retailers are surviving by selling off their inventory without restocking and are worried banks won't lend them money they will need to profit from a recovery. Consumer expenditures on furniture dropped at least 10 percent per month through June, compared to the same month last year.

"I tell people to look at their own eight-month record and ask themselves if they would lend to themselves," Epperson said.

The local chain Gerdt Furniture opened a 65,000-square-foot store along U.S. 36 in Avon in late 2006, but expenses quickly outpaced sales. Gerdt, with stores in Castleton and Southport, had to close the Avon store in August.

"When consumer confidence is in the toilet, our business is in the toilet," said John Gerdt, 60, whose father, Edward, a police detective, saved for years so he could open the first Gerdt location, in Southport in 1959.

Customers lately seem less worried, so business is picking up, Gerdt said. He declined to provide numbers.

Poised for rebound?

Another well-known locally based chain, Kittle's Furniture, also saw its sales jump in August. Across the chain's 14 locations in Indiana and Ohio, sales rose about 10 percent.

For the chain's flagship store in Castleton, it was the highest sales month in at least 30 years. But the commission check in that case goes to Mother Nature. After a storm flooded three-fourths of the 135,000-square-foot showroom, the company bought back its floor-sample inventory at salvage cost from its insurer, then began advertising the mother of all sales.

Customers waited outside the doors that first day and eventually more than 7,500 people filed through the store in search of deals, said Jim Kittle Jr., the company's chairman.

The flood also gave the company a chance to completely redesign and restock its store—with an eye to the changing demands of furniture customers, Kittle said.

About 60 percent of the old store's sofas were priced above $999. Now, more than 60 percent are under $999. The store now will feature six sofas at $499, while the old store had just one.

"Everyone has changed their spending habits," Kittle said. "We still have everything we had before; we'll just have a broader selection at the beginning through middle price point."

A test of whether the market truly has turned comes during Labor Day weekend, traditionally one of the busiest times for furniture retailers, as people prepare to spend more time indoors during the winter months, said Mike Pierce, a spokesman for the National Home Furnishing Association, a High Point, N.C.-based trade group with more than 2,500 member retailers.

Individual stores or chains with clean balance sheets, good locations and demographics, in-store design assistance and a "flawless" back-end operation including delivery are most likely to survive, Pierce said. Another factor is the availability of credit: Even though lending markets have eased from a few months back, in some cases only about 25 percent of customers can get credit for new furniture.

"It's just tough out there," Pierce said.

McDermott isn't fazed. At the end of each long day at his second home, selling sofas and love seats to customers who feel like family, he pours a scotch on the rocks with a splash of water and thinks about tomorrow.

He's claimed for years he wants to retire. Don't bet on it.•