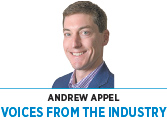 The truth? Gregory & Appel Insurance is not as diverse as we should be, and it's no secret that this is a challenge throughout our industry. What are we going to do about it? For us, the initial step will be to require a diverse candidate pool for every open position before making hiring decisions.
We firmly believe our employee base should be reflective of the community in which we work and serve, and currently we're not. If we are committed to being leaders in our industry, inclusiveness within Gregory & Appel is one of our best tools for success and advancement, and having a diverse candidate pool is a vital shift in the direction of accomplishing this goal.
Sure, data exists to support why making diversity a priority is imperative to moving an organization forward. Before we get to that, let's be clear that being a diverse organization, above all, is the right thing to do. A broad definition of diversity is most valuable when it includes inherent diversity, such as gender, ethnicity and sexual orientation; and acquired diversity, which are traits gained from experiences, such as living and working internationally or interacting with a marginalized group.
Here are a few facts, based on research, that make the case for diversity and inclusion:
◗ According to the Harvard Business Review, employees of firms with broad diversity are 45 percent more likely to report a growth in market share over the previous year and 70 percent likelier to report that the firm captured a new market.
◗ When diverse leadership does not exist, women are 20 percent less likely than straight men to win endorsement for their ideas; LGBTQs are 21 percent less likely; and people of color are most affected, at 24 percent.
◗ The highest-performing companies on both profitability and diversity had more women in roles that generated revenue than in staff roles on their executive teams, based on a study by McKinsey & Co.
The conversation about diversity is a big one. Using a checklist of one woman or person of color on a team and being satisfied that the quota was met isn't enough. Having individuals who fit into diverse groups for organizational-vanity purposes is not how we plan to do things. Everyday inclusion must be fully addressed, including challenging our personal biases and fostering a culture and environment in which employees of diverse backgrounds are heard and truly supported.
Diversity as a goal requires intentionality, and achieving this will, at times, be challenging. But achieving diversity better serves our clients, employees and community.
For Gregory & Appel, this is the very beginning of a much larger conversation we must have to be our best. Let's get ready to face this head-on to stretch and grow the company.•
__________
Appel is president of the property and casualty division of Gregory & Appel Insurance.
Please enable JavaScript to view this content.