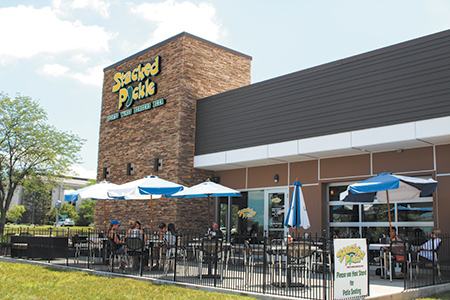 A home-grown sports bar is looking to expand a local love for fried pickles and mixed drinks—and it wants to do so through franchising.
Like most restaurants in the sports-bar genre, Stacked Pickle boasts its share of widescreen televisions, neon beer signs and heaping plates of nachos.
But Stacked Pickle owner and CEO Gary Brackett told IBJ the key difference for his brand is the weight it places on the neighborhood. It's more than an interaction with the customer, he said—it's an interaction with the community. Stacked Pickle outlets regularly host dine-and-donate nights with local schools and not-for-profits, he said.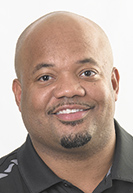 Brackett
Brackett himself has long been familiar to the Indianapolis community. He sported the No. 58 blue-and-white jersey as a linebacker for the Indianapolis Colts for nine seasons, including a win over the Chicago Bears at Super Bowl XLI in 2007.
That's an athletic career that earns him recognition even today as a restaurateur—and in his newest gig as a franchisor.
Ray Bridges, a south-side Indianapolis resident and regular Stacked Pickle customer, shows off a photo of a Colts-themed license plate. "We won this license plate at an auction," he said. "GO 58" is stamped in black next to the horseshoe logo on the plate, a rallying cry for Brackett during his NFL days.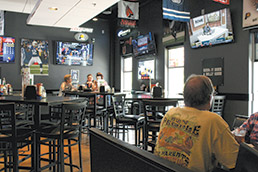 As Bridges dined on a burger smashed between golden buns and loaded with a tall pile of crispy fried onions, he explained that he and his wife, Diane Bridges, are self-proclaimed Gary Brackett fans. Each said they regularly eat at Stacked Pickle and have visited three of its locations—Southport, Greenwood and Carmel.
Now, Brackett hopes to make equally strong fans out of aspiring franchisees and consumers in other cities, some far from Indianapolis.
Though no franchised locations exist yet, Brackett said the Stacked Pickle concept is marketable as a franchise.

There are five serious candidates, Brackett said—all of which are on track to open their doors by early next year.
Brackett currently oversees nine company-owned and -managed Stacked Pickle locations, exclusive to central Indiana. He purchased the chain outright in 2014 after spending time as a co-owner.
He said he wanted to franchise immediately to encourage growth. But further consideration put the venture on hold for three years so he could revise and strengthen Stacked Pickle's image and set a training model in place.
The game plan
Now he's ready to go.
Securing a franchisee contract won't be easy. It will take commitment, Brackett said, both from inside the existing company and from future partners.
It also requires a relatively large wallet. To start, all applicants pay a uniform $40,000 franchise fee.
The costs continue to add up—for real estate, construction, equipment, branding and signage, and more.
On average, franchisees can expect to spend around $668,200. But that investment can vary considerably, with low-cost franchises totaling $405,050 and the highest-cost locations costing up to $931,350.
To maintain a neighborhood feel, new Stacked Pickle locations won't exceed 5,000 square feet.
Ongoing costs for franchisees will include turning over 6 percent of sales to the Stacked Pickle company. That's 5 percent for a royalty fee and 1 percent for Stacked Pickle's marketing fund.
While that might sound like a lot, comparable sports-bar operations like Scotty's Brewhouse and Buffalo Wild Wings often require franchisees to spend more than $1 million on startup costs alone. Those chains also tend to require multi-unit franchise deals.
Stacked Pickle franchisees can also enter multi-unit deals, which would reduce the initial mandatory franchise fee to $30,000 per location.
Brackett Restaurant Group LLC—the entity behind Stacked Pickle and other subsidiaries, including Char Blue—will also incur additional upfront costs.
Each franchised location, at least in Indiana, will cost Brackett about $1,000 for real estate costs and another $1,000 for equipment assistance and $2,500 for training.
The paperwork and regulation for franchising also take time and money. In Indiana, for example, filings cost $500. In Illinois, a target state for the chain, Stacked Pickle's franchise paperwork has yet to be approved, a process that has already taken months.
But Brackett isn't wading through the process alone. He promoted Ty Cook, a former Stacked Pickle general manager, to director of franchise operations last year. Cook is responsible for verifying any paperwork and legal matters, Brackett said.
The corporate staff will be all hands on deck as the first franchise locations open, Brackett said, to make sure the model makes a good impression.
"The first one is so important," he said. "That's why your franchise needs to have a strong support system from the start."
'Travel-ability'
The initial plan, according to Brackett and the Stacked Pickle franchise website, was to franchise in Indiana and Illinois.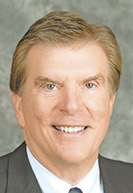 Delaney
But the company has fielded serious inquiries from entrepreneurs in Houston, St. Louis and Cincinnati.
CBRE First Vice President Steve Delaney, who has experience as a franchisee, said that's a strong indicator the chain will be successful.
"The 'travel-ability,' if that's a word, of the concept is so important," Delaney said. "You need to show, number one, that it's well-run, well-respected … that it turns a healthy profit."
Christopher Hollins is an engagement manager at the Houston office of McKinsey & Co., a global consulting firm. The Harvard Business School and Yale Law School graduate said he anticipates opening his own Stacked Pickle franchise in the Houston area within eight months.
He pointed to Brackett's guidance as a key reason for sticking with the venture, which he started in order to add a new layer to his income and life.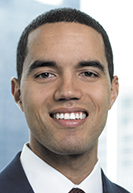 Hollins
"There was no real 'aha' moment," Hollins said about his interest. "I think franchises offer a well-beaten path to diversified income. As an entrepreneur looking to diversify, it was less about, 'Should I franchise?' and more about, 'Which one?'"
Brackett visited Hollins earlier this year while in Texas to host a Dallas NFL Draft event. The two toured potential franchise locations, Hollins said, and narrowed five possibilities to two serious options.
Brackett and Hollins have a contract for space in an existing building, but it isn't move-in ready. Hollins has to find new equipment to fill the kitchen space.
And that's only the first level of the "excitement and nervousness" Hollins said he feels about the franchise. He said his costs fall "on the higher end," largely due to the lack of equipment. He also will have to navigate the geography, as a potential franchise the farthest from the chain's Indianapolis epicenter.
"I really just enjoy the atmosphere," Hollins said. "It's a sports bar, but it's family-friendly, so you know it's a place where you can feel comfortable with kids. I'm the parent of a young child myself, so that's important."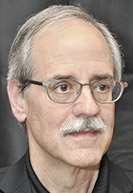 Feinberg
Murphy's Law
"Our research at Purdue shows that, on average, franchisees do not do as well as company stores on all measures of success—but most importantly sales and profitability," said Richard Feinberg, a professor specializing in retail operations at Purdue University's College of Consumer Sciences. "Franchisees go out of business in greater numbers and higher frequency."
That's often the top concern as company owners prepare to entrust their brand to those outside the corporate umbrella.
Brackett said that's why he and his team spent the last three months perfecting a training system for franchisees.
When franchise operators are close to opening their locations, they are required to visit Brackett Restaurant Group in Indiana for a four-week, intensive training program. Two weeks cover back-of-house items, he said, such as quality control and internal monitoring systems. Then, franchisees spend the remaining two weeks in a front-of-house setting.
But that doesn't mean Brackett is trying to stifle creativity. In fact, he encourages franchisees and their employees to experiment and make suggestions under Stacked Pickle's model. "One of our most popular drinks started as a suggestion," Brackett said about the Pickle Sweet Tart.
A former bartender discovered the drink and suggested it to Stacked Pickle executives, who then introduced it as a limited-time menu item. The combination of Pinnacle Grape Vodka, Dekuyper Apple Pucker, sour mix, lime juice, lemon-lime soda, cranberry juice and a lime wedge garnish was a lasting hit.
Brackett said Stacked Pickle executives will also spend a week at each franchise location during and after the grand opening to make sure the training is being followed. Secret shoppers and additional check-ins, possibly as often as twice a month, could follow.
Brackett said personal involvement will be a must as Stacked Pickle expands.
"It's like they say in this business: If something can go wrong, it will go wrong," he said. "That's why we have to do everything we can to be ready."•
Please enable JavaScript to view this content.