Tamika Catchings is our featured speaker at Mickey's Camp for Women this year. Many of us know Tamika as the future Hall of Fame forward for the Indiana Fever, leading scorer in WNBA All-Star Game history and the only player to appear in 10 WNBA All-Star Games.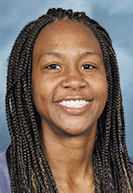 Catchings
Did you know that Tamika was the first ESPN Humanitarian Award winner and her Catch the Stars Foundation has been a mainstay in our community for the last dozen years? Her inspiring story is delightful.
Mickey's Camp affords an opportunity to learn adult skills from professionals and experts from all over the country while enjoying the camaraderie of fellow campers in a relaxed, informal atmosphere.
Campers may choose from more than 70 activities, including sessions with Newfield CEO Charles Venable on art appreciation, Indiana University professor Tim Irwin on Alfred Hitchcock and extraordinary talented artist Nancy Noel on instructional painting.
Camp also will offer culinary-knife skills, an escape room, fencing, golf, many opportunities for cooking and baking, nature hikes, pickleball and poker. Kreig DeVault partner Deborah Daniels will lead a panel on sexual abuse and harassment in the workplace, in sports and in other environments.
You can pamper yourself with acupuncture, a facial and a massage. You also can learn combat skills of rifle, pistol, shotgun and politics. We ask that you not engage in these activities immediately after taking wine tasting or vodka tasting.
We don't "rough it" at Mickey's Camp. The cabins are air-conditioned and afford adult privacy. If you opt out of cabin life, camp has reserved rooms in the Holiday Inn about 10 minutes from the campgrounds.
The keynote speaker at the men's camp is Archie Miller, head coach of the Indiana University men's basketball program and already regarded as one of the top young coaches in the country. He will undoubtedly talk about Romeo—not Shakespeare's Romeo.
Men's camp will feature most of the women's activities, plus a few surprises. Donald Kuratko of Indiana University's Kelley School of Business, the top-rated entrepreneurial program in the nation, will conduct a session on entrepreneurial thinking.
Food will be provided by some of the best local restaurants, including Sullivan's Steakhouse, downtown's Prime 47, District Tap, Amore Pizzeria Ristorante, Nameless Catering, Ivy Tech's Smokey Bears Barbecue Club, Mimi Blue Meatballs and Verde, a family-owned authentic Mexican restaurant.
Over the last 17 years we have raised millions of dollars for central Indiana charities. Your enrollment at camp will allow us to continue that philanthropic tradition. Please come and enjoy a few days on the beautiful campus of Bradford Woods, IU's outdoor center located minutes from downtown off State Road 67. Women's camp begins at lunch on Aug. 13 and ends at lunch on Aug. 15. The men's camp begins at lunch on Aug. 15 and ends after lunch on Aug. 17. On Wednesday, changeover day, there will be a joint lunch and opportunities for coed classes, both in the morning and afternoon.
Everyone is invited. Campers are enrolled on a first-come, first-served basis. We are filling up fast. You can find additional information and sign up at www.mickeyscamp.com or for a hardcopy of our brochure, please email me at the address below.•
__________
Maurer is a shareholder in IBJ Corp., which owns Indianapolis Business Journal. To comment on this column, send email to mmaurer@ibj.com.
Please enable JavaScript to view this content.