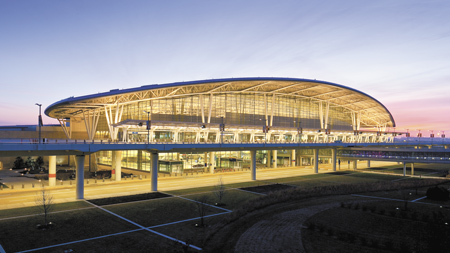 The hospitality market is booming—so is it finally time for Indianapolis International Airport to add an on-site hotel?
That's the question airport leaders will be trying to answer as they examine pitches from four developers that submitted "expressions of interest" by the June 28 deadline.
Airport officials aren't revealing the developers' names, but IBJ has confirmed three of the four: South Bend-based Holladay Properties, Indianapolis-based Prince/Alexander Architects Inc. and Indianapolis-based Sun Development & Management Corp.
Even one of the bidders acknowledges, however, that an on-site hotel is not a financial slam-dunk. A key question is whether Indianapolis International, as a non-hub airport, can generate sufficient room demand at high enough rates to justify development costs.
"Part of the complications of the project are what we call the financial realities of what the average daily rate can support out at the airport vs. the costs of providing that passenger excellence that the airport expects," Prince/Alexander President Steve Alexander said.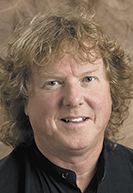 Alexander
Alexander declined to share how his team addressed the cost/revenue challenge but was willing to discuss details of its proposal.
Its hotel would have 265 rooms, 28,000 square feet of meeting space, a full-service restaurant and two bars. Development costs would run $40 million to $50 million, Alexander estimated, and the daily room rate would be around $145.
He said his firm has invited Virginia-based Hilton Hotels and Plano, Texas-based Aimbridge Hospitality to be its partners in the effort. The team also brought in Tampa-based F10 Hotels as a financing partner.
The Prince/Alexander proposal is grander than what the airport itself says the market might support.
According to a market study, the Indianapolis Airport Authority says, the "most suitable" components of a project would be a 150-room hotel associated with a major brand like Hilton or Marriott, about 7,500 square feet of meeting space, an all-day restaurant and a bar/lounge area.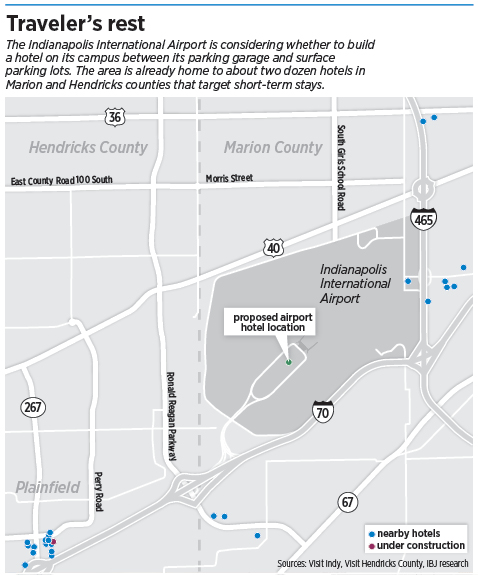 The market study also showed that airport-area hotels charged an average daily room rate of $112.89 at the end of 2016, the airport said.
The airport so far has declined to share that market study publicly, including with developers.
Alexander said his team's vision is for a property that could attract customers from beyond the airport. The hotel itself, he said, could include "some really cool green-space amenities both inside and outside," including a grassy hotel roof patrons could walk on.
The large meeting space could host everything from fly-in business meetings to weddings and other special events, Alexander said. "It could, in fact, draw people who aren't just daily travelers into the airport."
The project would not be Prince/Alexander's only investment in the airport area. The firm plans to begin construction this summer on a WoodSpring Suites extended-stay hotel on Kentucky Avenue at Interstate 465. It also is scouting sites for another extended-stay hotel in the airport area, Alexander said.
Sun Development and Holladay Properties both declined comment about their airport-hotel plans.
Holladay is the developer of the nearby Ameriplex business park and is building an extended-stay Home2 Suites by Hilton in Ameriplex. The hotel is expected to open in January.
Sun Development expects to open an Embassy Suites hotel and conference center in Plainfield later this year. The development—Hendricks County's first full-service hotel—will include 174 suites, 21,000 square feet of conference space and airport shuttle service.
Trying again
The Airport Authority previously sought a hotel, but the Great Recession scuttled its plans.
In 2007, a year before the $1.1 billion midfield terminal opened, the Airport Authority tapped Indianapolis-based Mansur Real Estate Services Inc. to develop a $50 million, 250-room Westin hotel.
Also presenting proposals at the time were Merrillville-based White Lodging Corp., which wanted to build a Marriott, and Indianapolis-based KMI Realty Advisors Inc., which pitched a Hilton.
The hotel was supposed to open in 2009. But after lodging vacancies and tight credit markets caused upheaval in the industry, construction never began.
The hotel market is now "the best it's been for a long, long time," said former Airport Authority board member Mike Wells, president of Indianapolis-based developer REI Real Estate Services.
Wells
Even so, the project would be tough to pull off, Wells said.
"It's not going to be simple to find a developer who can put together a package that makes economic sense," said Wells, whose firm has partnered with Merrillville-based White Lodging on numerous hotel projects, including the JW Marriott downtown.
A hotel with the amenities the airport envisions, Wells said, probably would cost $34 million to $36 million.
"That could be made to work," he said, assuming occupancy rates of 68 percent to 72 percent and room rates around $200 per night—a rate Wells believes the market could bear.
On the other hand, he said, Indianapolis' airport is convenient to downtown, making it easier for downtown hotels to compete for airport travelers.
The city also has less congestion than many other large cities, meaning fewer early-morning travelers will feel the need to book an airport hotel room the night before.
Construction costs are also a factor.
"Construction pricing is getting so high that it's hard to get the returns that you need on a hotel project," Wells said. The logistics involved in building at an airport also raise overall costs, he said.
Strong submarket
Existing Hendricks County hotels are booming, said Visit Hendricks County Executive Director Jaime Bohler Smith.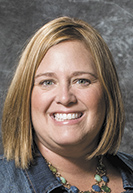 Smith
The countywide occupancy rate last year was 68.9 percent, up 1 percentage point from 2016. And the average daily rate was $98.70, up 6 percent from the previous year.
"When you're reaching 65 to 70 percent [occupancy], there's a very limited availability of what's left," Smith said. "Demand is outpacing supply at a great rate for us right now."
About 1,000 of the county's hotel rooms—two-thirds of its supply—are in Plainfield near or on State Road 267 just off of I-70, one exit west of the airport. In addition, an extended-stay hotel called My Place is planned near that exit, Smith said.
An Embassy Suites also opening at that intersection this year, will further add to the supply, as will the Home2 Suites Holladay is building and the WoodSpring Suites Prince/Alexander is planning.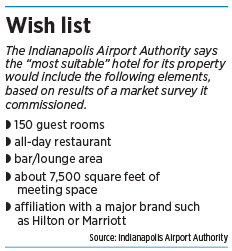 The building spree in southwestern Marion County and Hendricks County could lead to a hotel glut, said Vince Dora, president of Fishers-based Dora Hospitality.
"There's a lot of new supply coming into that market," he said. "I'm very concerned about the oversupply of hotels when all those products open in the next two or three years."
Dora said his firm considered submitting an airport hotel proposal but decided against it.
Without seeing the airport's hotel market study, he said, he didn't feel he had enough data to determine whether a project could succeed.
"I'm not convinced that the Indianapolis airport can support that amount of business right now," Dora said. "I wanted to see the assumptions that they made going into it."
Marsha Stone, the Airport Authority's senior director of commercial enterprise, said the airport's decision to keep the market study to itself for now was strategic.
Stone
"We wanted to really see what the development community thought about this without having anything preconceived from someone else," Stone said.
Now that developers have submitted proposals, she said, the airport will form an internal group to review them. It hasn't set a timetable for moving forward.
"We're just at a very preliminary stage," Stone said. "Once we have a chance to digest what's in those proposals, we will come up with next steps."•
Please enable JavaScript to view this content.