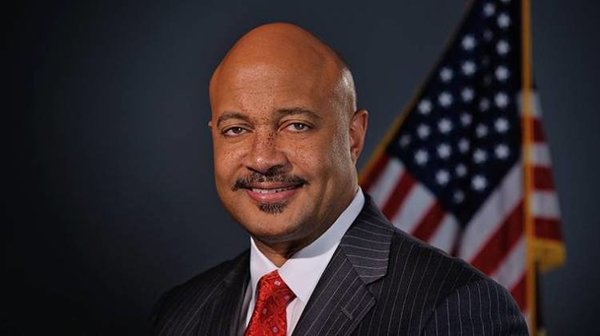 Indiana Gov. Eric Holcomb and the state's top two Republican lawmakers are calling on Attorney General Curtis Hill to resign after allegations that he groped four women at a bar in March.
House Speaker Brian Bosma and Senate Pro Tem David Long released a joint statement Thursday evening saying they believe the state lawmaker and legislative staffers who have accused Hill of inappropriately touching them.
"We do not believe that Curtis Hill, as chief law enforcement officer of the State of Indiana, can continue to perform his duties, nor should he, and we call for his immediate resignation," Bosma and Long said in the joint statement. "We have further requested that the Indiana Inspector General thoroughly investigate these allegations. Sexual harassment is unacceptable at any time, in any place. It makes no difference that these incidents did not occur in a workplace environment."
Holcomb released a statement minutes after that, concuring with Bosma and Long.
"Four women had the courage to step forward to report sexual harassment by the Indiana Attorney General," Holcomb's statement said. "The findings of the recent legislative report are disturbing and, at a minimum, show a violation of the state's zero tolerance sexual harassment policy. I concur with Sen. Long and Speaker Bosma that Attorney General Hill should resign, and I support a thorough investigation by the state's Inspector General."
Long and Bosma said that if Hill worked for them, he would have already been fired.
"Because we cannot terminate his employment, we ask instead for him to own up to his actions, apologize publicly to the victims, and tender his resignation immediately," Long and Bosma said in the joint statement.
Hill has denied the allegations and said earlier this week that he would not resign.
The Indianapolis Star revealed the accusations on Monday evening after obtaining a copy of an eight-page confidential memo prepared by Indianapolis law firm Taft Stettinius & Hollister for legislative leaders.
 
The memo says a state lawmaker and three legislative staffers told Republican leaders in May that Hill inappropriately touched them at a party in the early morning hours of March 15, shortly after Indiana's legislative session came to a close.
 
Bosma, Long and top staff members for them conducted an investigation in May and interviewed women who attended the party at AJ's Lounge.
 
The lawmaker said an intoxicated Hill put his hands on her back, slid them down her back, put them under her clothes and grabbed her buttocks, according to the memo. She told him to "back off" and walked away, but Hill approached her again later and again reached under her clothing and grabbed her. She again told him to "back off," according to the memo.
 
Comments from other female legislative employees that are included in the memo accuse Hill of suggesting they "show a little skin" or more leg to get free drinks or faster service at the bar.
 
The memo from Taft, dated June 18, says that Hill's alleged conduct toward the legislative employees may have been "inappropriate," but was "likely not severe or pervasive enough to result in a hostile work environment." However, the firm found that Hill's conduct toward the lawmaker was "likely egregious enough to meet the threshold of 'severe.'"
 
The report recommended that legislative leaders discuss the allegations with Hill, even though they were under no legal obligation to do so. Hill was not interviewed as part of the internal investigation.
 
The top Republicans did not talk to Hill about the allegations until 11 days after the memo from Taft and after reporters from The Indianapolis Star started asking questions.
 
Hill, who has been considered a rising star in the Republican Party and is a married staunch social conservative, has said the allegations are "deeply troubling."
 
"At no time was my behavior inappropriate nor did I touch anyone in an inappropriate manner," Hill said in an earlier statement.
 
Hill has also said the lack of due process is concerning because he never saw the report and was never interviewed for the investigation.
 
"There is a fundamental lack of fairness to this entire process," Hill said in a statement earlier this week.
 
Indiana Democrats had immediately called on Hill to resign, but Republicans, while calling the behavior unacceptable, did not.
Indiana Democratic Chairman John Zody said Republicans are "right to echo the call for Attorney General Hill to resign amid the allegations uncovered this week. We will continue to stand with those who had the courage to come forward while, in the meantime, it seems Hoosiers will also continue to wait for Curtis Hill to do the right thing."
 
The Associated Press contributed to this report.
Please enable JavaScript to view this content.