Should a Supreme Court nominee's stand on abortion be a litmus test for confirmation?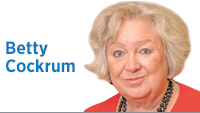 I found myself at my keyboard on the Fourth of July (also known as Independence Day), pondering whether abortion should be a litmus test for appointment to the U.S. Supreme Court. I must say, this country isn't feeling like the land of the free right now. Daily, we see civil rights trampled and heartlessness and hateful behavior paraded across our screens.
Even as women are the majority gender, it is blasphemy to suggest the glass ceiling is broken. Our representation in the C-suite, at corporate board tables, and in leadership roles in the three branches of government doesn't remotely demonstrate gender equality. Not even close. The white guys in suits dominate and they are flexing their muscles more by the day.
The 19th Amendment of our Constitution gave women the right to vote. In 1965, birth control became legal, making real the hope for women in this country to enjoy self-determination by planning pregnancies for when we are ready to be parents.
And, yes, in 1973, the Supreme Court ruled that the 14th Amendment of our Constitution gave rights to women seeking abortion. That decision was driven by testimony of doctors begging that the back-alley bloodshed end. We are grateful that "the powers that were" felt women should be trusted to make that decision for ourselves. Please let us remember that abortions did not begin with the passage of Roe v. Wade. It is because of Roe v. Wade that women stopped dying from them.  
Where are we now? A recently released study by the University of Texas speaks of as many as 250,000 young women attempting self-induced terminations. This cannot come as a surprise. In 2013, there were 41 Texas abortion facilities. There are now 18. This during a time when lawmakers at both the state and federal levels are seeking to mandate abstinence-only education and increasing barriers to all forms of contraception in their misguided wish to protect fertilized eggs. Please note: A fertilized egg is not to be confused with a pregnancy.
Roe v. Wade is settled law. We hope the president's nominee respects the weight of that long-ago decision. We hope lawmakers faced with this tough and incredibly long-term and impactful decision will take their responsibility seriously. We hope they will insist the candidate make it loud and clear she or he agrees that, once seated on that lofty bench, religious beliefs are left at the door.
I have long hoped that every time abortion again becomes the subject du jour, it becomes an opportunity to educate regarding the realities of unintended pregnancies and how to reduce their number. While the majority of Americans believe abortion should be legal, all of us agree it's best if a woman doesn't have to face that question. That is accomplished by abstinence-plus education in an age-appropriate curricula and by ensuring women and men have access to birth control without burden. I long for the day our "leaders" take a fact-based, reality-based approach to reducing abortions in this country.
My plea to lawmakers: Do not send women in this country back to the alleys, be they real or of the cyberspace variety. We are your daughters, your sisters, your granddaughters, your nieces. Show us respect. Trust us to make the right decisions for ourselves and our loved ones.•
Click here for more Forefront columns.
__________
Cockrum is a former director of Planned Parenthood of Indiana and Kentucky and a former state budget director. Send comments to [email protected]
Please enable JavaScript to view this content.