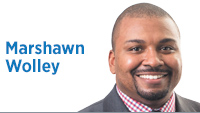 Black men are successful and even affluent members of society.
While this statement might seem obvious to some, it counters seemingly ubiquitous constructs of what it means to be a black man in society today. Often perceived as dangerous and potentially even expendable by education and criminal justice systems, and outpaced by black women in achievements, there usually isn't much positive to say about this group in society.
Researchers with the American Enterprise Institute counter a harmful narrative about black men in a groundbreaking report, "Black Men Making It in America." The report follows a generation of black men born from 1957 to 1964, and produced findings on both their economic standing and paths toward success.
Key findings include the reality that 57 percent of black men are in the middle class in their 50s and less than 20 percent are in poverty. Agency—one's sense of the ability to control one's life—was a key indicator of black men's success over time, with 52 percent of black men with an above-average sense of agency reaching the middle class in their 50s.
Additionally, there was no association between a black man's childhood family structure and whether he reached the middle class or upper-middle class. Black men also demonstrated resiliency, as 28 percent who had contact with the criminal justice system were able to reach the middle or upper-middle class.
The report did find that black men must continue to overcome obstacles in their pursuit of success. They continue to face significant headwinds, including differences in full-time employment status as well as in health problems relative to their peers. This produces some volatility in economic standing, according to the report.
The report also references studies by other scholars documenting discriminatory treatment by hiring managers affecting employment opportunities, the continuing impact of the criminal justice system on career trajectory, and even the impact of the changing economy on black men's income.
Pathways toward attaining middle- and upper-middle-class status for black men included education, military service and marriage. Church attendance at a young age seemed to play a factor in the success of black men later in life.
Given my own history, the idea of agency and education seem to be the most significant.
I'm not married. I don't belong to a church. I've had contact with the criminal justice system. I'm a single dad. If I have to apply for a job, I write "Marshawn Wolley" on the application. It's definitely a black name. Based on these factors, I should be doomed to poverty.
However, I'm solidly in the middle class and expect to pass generational wealth to my son. I've had a privileged career thus far, with positions seemingly and sometimes literally tailored to my skill sets. I have found that the constant pursuit of education—both formally, and informally through volunteering—has been key to my success.
When engaging with young black males at the Marion County Juvenile Detention Center in the past, I usually found a lack of agency. A cruel and indifferent world was happening around them and they were reacting. In this city, it seems that some black young men do not feel in control of their lives. This sense of hopelessness is anathema to resiliency and ambition.
One small way to address this problem is to be intentional about telling the truth of and reframing the narrative around black men. And the truth is, black men are successful and affluent members of society.•
Click here for more Forefront columns.
__________
Wolley is a lecturer at the School of Public and Environmental Affairs at IUPUI.Send comments to ibjedit@ibj.com.
Please enable JavaScript to view this content.