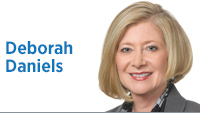 I have written previously about the tremendous economic opportunity in our city and state. New positions are being created at an impressive rate. We are becoming a technology hub. We remain the leading state for manufacturing, and there is a tremendous market for logistics, distribution and transportation jobs here at the Crossroads of America.
Kiplinger rates us in the top 10 cities to start a business. Forbes puts us in the top 10 cities for young professionals and high-tech job growth. Livability ranks our downtown as No. 3 in the country.
But as IBJ has recently pointed out in a series of articles, there is a darker side to our economy. A significant segment of our population is being left behind.
We have experienced an 80 percent increase of people in poverty just in the last decade. Thirty percent of central Indiana families are not financially stable, and nearly 15 percent live in poverty. More than 20 percent of Marion County's residents are living in poverty. In the 46218 ZIP code, more than 40 percent live in poverty—an 89 percent increase since 2000.
The Indy Chamber and the Indiana University Public Policy Institute have reviewed the work of the Brookings Institution analyzing what prevents those on the lower rungs of the economic ladder from climbing out of poverty.
Until the late 20th century, someone with a high school education could get a well-paying job in manufacturing and rank solidly in the middle class. But most of those jobs are gone; we've seen a reduction of nearly 31,000 traditional manufacturing jobs since 1995, largely due to the increased use of robotics.
There's some good news: We've seen an increase of more than 22,000 jobs in logistics/ distribution/transportation, and well over 50,000 jobs in health care. The bad news? The jobs require a higher level of skill than the old manufacturing jobs, and they pay less. But they pay enough for a family of four or more to live on.
There are plenty of people in Indianapolis and central Indiana who could fill those jobs. But significant barriers stand in the way, including education, transportation and child care costs.
By 2020, 62 percent of jobs in our state will require education beyond high school, but only 42 percent of Marion County residents have a post-secondary credential or degree. Those just making ends meet wonder how to afford the time and money to further their education. And how would they get to the jobs outside their neighborhoods?
Back to the good news: One out of two advanced-industry jobs requires less than a four-year degree. Many jobs in the health care field also require less than a four-year degree. We have readily available training opportunities through Ivy Tech Community College and also through online means such as WGU-Indiana and Purdue Global. Some employers (including, ahem, Amazon) subsidize educational advancement for their workforce.
Some call this "a government problem." Indeed, the state is working to marry the needs of employers with employee training; the city of Indianapolis is trying to increase pathways to postsecondary education. We're working to improve transportation.
But the corporate sector throughout central Indiana also must acknowledge that, in order for a community to thrive, it is not enough for just some to prosper. As Drew Klacik of the IU Public Policy Institute says, "The most left-leaning do-gooder and the most right-leaning capitalist both can see a reason to … reduce opportunity disparity. If you don't have enough thriving people, it's hard to have a thriving company and thriving economy."
We are all responsible for solving this seemingly intractable problem. Let's do it, together.•
Click here for more Forefront columns.
__________
Daniels, a partner at Krieg DeVault LLP, is a former U.S. attorney, assistant U.S. attorney general, and president of the Sagamore Institute. Send comments to ibjedit@ibj.com.
Please enable JavaScript to view this content.