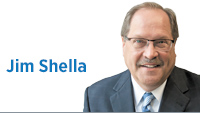 Several years ago, I was leaving work headed to an evening meeting. I stopped at a stop sign a couple of blocks from the Indianapolis TV station where I was employed. Then I heard an explosion.
I thought it might be a gunshot, but my mind told me there was nothing to fear. But after I drove a couple of blocks, I decided I should check whether one of my tires had blown. I got out of the car and did an inspection. No problem. I went on with life.
A week later, at the same stop sign, same time of day, I heard the same sound. This time, my windshield shattered. I drove off in a hurry, taking no time to investigate the source of the problem.
I returned to work and called police, but little could be done because, as I like to say, the perpetrator didn't leave a note. I believe, however, that I was targeted.
After that, I made sure to change my route to and from work on a regular basis.
It's one reason the Capital Gazette newsroom massacre hit home for me. Journalism can be a dangerous profession and I'm bothered by the social media trolls who mock the commentary from reporters who say they relate to the victims in Maryland.
By the time I retired from that TV station, it had automatic locks on the doors, bullet-proof glass in the lobby, and a full-time security staff. Those steps were taken because of threats. Not perceived threats, but real ones. I used to look behind the security desk on a regular basis to see the photos of people who were banned from the station and the posted emails from others who were believed to be a threat.
They are precautions that are taken at pretty much every major media outlet.
And, for what it's worth, journalists face other dangers. I was in five car accidents on the job, including a rollover at 60 miles an hour.
I was sitting in a car one day, just over the crest of a hill, at the back of a line of stopped cars, when a sheriff's deputy traveling at approximately 100 mph came over the hill with no time to stop. He swerved into the ditch, missing me by inches. I believe that was the closest I came to losing my life on the job.
Even so, I had three separate scares in small planes: a near collision, a landing that went off the runway, and an instance when the pilot killed the engine in mid-flight. Needless, to say, he got it going again.
Oh, and then there was the time two colleagues and I were stranded in a blizzard and forced to spend the night at the home of a generous farmer.
My record might be unusual, but career journalists are used to danger. We are willing to take risks for the benefit of the public. It's what we do.
And then we hear about the five murder victims at the Capital Gazette, who were just sitting at their desks.
When President Donald Trump calls reporters "enemies of the people," "terrible people" and such, it is hard to imagine that the result will be anything but more danger for those who practice journalism.
I was once amused by what I assume are Trump's efforts to charge up his base and protect himself from negative coverage.
I no longer find it amusing.•
Click here for more Forefront columns.
__________
Shella hosted WFYI's "Indiana Week in Review" for 25 years and covered Indiana politics for WISH-TV for more than three decades. Send comments to ibjedit@ibj.com.
Please enable JavaScript to view this content.