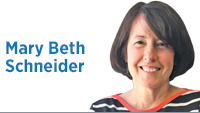 The message couldn't be much clearer: A family imprisoned behind a barbed-wire and chain-link fence.
And not just any family, but Joseph, Mary and Jesus.
Christ Church Cathedral, putting its Episcopal faith in full display on Monument Circle, is protesting President Donald Trump's immigration policies that have resulted in more than 2,000 children still separated from their parents and families now being held in detention centers.
The Holy Family was refugees, too, the church asserted.
And those families at the border?
"Those families are coming to us for safety and seeking a better life for their family," the church's senior pastor and deacon, Rev. Stephen Carlsen, told The Indianapolis Star. "The Holy Family is that family and we want to let everyone know that every family is holy."
Can I get an Amen?
Not, it seems, from Vice President Mike Pence, the former governor of Indiana who built his political career on the pledge that he was "Christian first, conservative second and Republican third."
Pence recently returned from a trip to South and Central America, including to Guatemala—one of several countries where families are fleeing both natural disasters, such as a volcano, and man-made horrors of gang warfare and drug cartels.
The United States, Pence said in a Brazil speech, is "the most welcoming home for immigrants in human history.
"But we are also proud to be a nation of laws and a nation with recognized and respected international borders. We also want the people of our hemisphere to have the chance to build a better life for themselves in the land of their birth, rather than leaving for ours."
In Guatemala, Pence said, "This exodus must end," using a biblically charged word himself.
Only a few days after Pence told people fleeing violence to "build your lives in your homeland," a Guatemalan mother was being reunited at a Miami airport with her 7-year-old daughter. The family, along with the father and infant son, had been fleeing gang violence in Guatemala. The family wanted asylum, but ended up arrested and in custody, with the little girl sent without her family to Michigan.
Now, they are being sent back to the same violence they fled.
The mother's advice that others not repeat her journey might be the message Pence wants to send, but is in words that make a mockery of the Statue of Liberty's appeal to "give me your tired, your poor, your huddled masses yearning to breathe free."
As she hugged her crying daughter for the first time in 61 days, the mother said: "People dream of coming here, to save their lives. But I don't want them to experience what I've gone through. … The laws here are harsh. And people don't have hearts."
Despite Trump's accusations, no one wants open borders. And, yes, the problem of how to secure borders and grant asylum where warranted while taking steps to help countries combat the problems that brought the refugees here in the first place is an issue that long predates this administration. But the government's position has grown harsher under Trump, with families separated, children in cages, and toddlers sent into courts alone, without representation.
The rejection of those in need, sending them back to the hells they fled, is not new, though that hardly makes it right.
In 1939, the United States rejected the St. Louis, an ocean liner packed with Jewish refugees. They were forced to return to Europe, and a quarter of them died in Nazi death camps. Many more people desperately sought asylum in America.
Like Trump, President Franklin D. Roosevelt warned that the influx posed a national security problem and, instead of welcoming refugees, restricted them.
One of those who unsuccessfully sought refugee status for his family in 1941?
The father of Anne Frank.•
Click here for more Forefront columns.
__________
Schneider covered Indiana government and politics for The Indianapolis Star for more than 20 years. Send comments to ibjedit@ibj.com.
Please enable JavaScript to view this content.