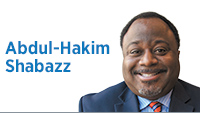 No, it's not your imagination—there are a lot more homeless taking up camp on Monument Circle.
On any given day, I can walk from the Emmis Communications Corp. building over to Starbucks and easily count 10 to 15. On the Fourth of July, I counted 12; so much for taking a holiday off. And oddly, these aren't the usual panhandlers I frequently complain about. These are the homeless.
What I had trouble getting my arms around, though, is why they all seemed to come out of nowhere so quickly, especially because—by my last recollection—the number of homeless in Indianapolis was actually down 6 percent.
And then I had a conversation with Alan Witchey, executive director of the Coalition for Homeless Intervention and Prevention. Witchey cited three main reasons for increased visibility: an increase in homeless camp dislocations, eviction rates and the redevelopment of abandoned properties.
Witchey said that, in the past six months, seven homeless camps have been closed and more than 100 people dislocated. He also said the growth in construction, as well as the redevelopment of abandoned properties, has left the homeless without options. And he said Indianapolis ranks 14th in the nation when it comes to evictions, which also adds to the problem.
Indianapolis recently received more than $5 million in federal funds to address homelessness. On any given day, Witchey said, about 1,700 people are homeless in the city, but less than 3 percent are visible to the public.
Witchey's explanation parallels a conversation I had with folks at the Hogsett administration. When the city cleared out some of the homeless camps by the railroad underpasses, about 50 or so homeless headed to Monument Circle.
To its credit, the administration made offers of temporary free housing, storage for belongings, and access to mental health and other social services to help those dislocated people get back on their feet. None—that's right, none—of them took the city up on the offer.
So what's a city to do? I worry about this on many levels. My friends who are downtown merchants have to deal with homeless people who not only sleep on their doorsteps but also leave behind trash. (By the way, my Department of Public Works friends tell me most of the garbage they have to pick up on the Circle comes from the homeless, not the tourists.)
And then there is the public safety concern, including drug overdoses, three of which occurred in one day, but also the fact that a good friend was accosted by a homeless person while making a delivery. My friend doesn't carry, but he is thinking about doing so because he feels downtown, particularly the Circle, might be getting too dangerous and he does not want to take a chance on risking his safety or that of his employees.
I am sure he's not the only person who feels that way, and it's just a matter of time before something happens that's going to result in a homeless person getting shot, and that won't be good for anybody.
Downtown is a significant economic driver of Indianapolis and the entire state, and Monument Circle is a crown jewel for the city. Watching the homeless turn the Circle into a shanty town, or the closing scene from the science fiction movie "District 9," can't be good for anyone. The government and private sectors need to find creative methods to tackle this problem before it gets any worse.•
Click here for more Forefront columns.
__________
Shabazz is an attorney, radio talk show host and political commentator, college professor and stand-up comedian. Send comments to ibjedit@ibj.com.
Please enable JavaScript to view this content.