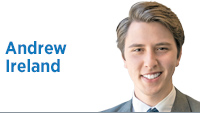 Eclipsed by faint shadows of alabaster railings and Wellington columns, President Donald Trump and North Korean dictator Kim Jong Un strutted toward each other, consummating their on-again, off-again summit with a handshake. Aptly described as a scene out of a science-fiction film, their blockbuster June rendezvous helped spell out a basic framework for denuclearization on the Korean peninsula and reportedly fostered a "special bond" between the two leaders.
Yet, for all the speedy, predictable fanfare about reckless concessions and warranted concerns over the reliability of the rogue nation, Trump's summit underscored a strategic shift in Asia. A perfect foil for our evolving relationship with China, the president's diplomacy is the product of a muscular, engaged approach to Kim's sole benefactor and powerful neighbor.
Beijing dragged its heels for years on Kim's nuclear program. Favoring the stability and strategic advantages of the Kim dynasty over quashing its frightening ambitions, China viewed the North as a welcome geopolitical buffer between the mainland and South Korea and Japan—both strong U.S. allies who play host to more than 70,000 U.S. military personnel.
North Korea's hostility to its neighbors and the West has thus far been a manageable nuisance. However, Trump's commitment to uprooting U.S. foreign-policy norms, including rhetoric of "fire and fury" and a sustained maximum pressure campaign, has forced China to rethink its arm's-length embrace of Kim and his fledgling nuclear program. A hiccup to the increasingly aggressive foreign policy charted out by China's President Xi Jinping—the nation's most politically able leader since Deng Xiaoping—Trump's efforts in the region represent a necessary course correction.
At long last, China has come to the table. Playing a key role behind the scenes in pressuring the North to engage with Trump and South Korean President Moon Jae In, Beijing likely signed off on both summits. Better yet, Beijing helped provide the necessary pressure to bring Kim Jong Un to the table by restricting illegal trade across its border and strictly enforcing international sanctions. For onlookers, this should be a welcome sign of cooperation that perhaps portends progress not only on the Korean peninsula, but for U.S.-Sino relations more generally.
This is not to say our relationship with Beijing is any less rocky than in years past. Sitting on the cusp of a major trade war, Xi and Trump show few signs of backing down. Yet, the joint progress in Korea should be celebrated.
President Obama was rightly praised for his pivot to Asia, itself an extension of rapprochement under President Nixon. A bold but poorly executed directive, his efforts fell short of fostering a better relationship with China because he lacked the stick to back it up.
The United States has maintained an adversarial posture for years with China, even when couched in flowery language. Under this new administration, however, that engagement has been backed up by strength. And so far, it appears to be working.
Whatever their next steps might be, President Trump and his team must continue to strike a delicate balance between engagement and pressure when dealing with the world's second-largest economy. If the White House remains up to the task, not only is peace in Korea possible, but perhaps a more productive relationship with China is, too.•
Click here for more Forefront columns.
__________
Ireland is an international scholar at Sungkyunkwan University's Global School of Business in Seoul, South Korea, and a digital media consultant. Send comments on this column to ibjedit@ibj.com.
Please enable JavaScript to view this content.