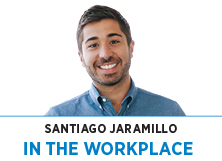 Communication. Respect. Integrity. Excellence. That's a nice-looking set of values for any organization. What if I told you those were Enron's corporate values back in the early 2000s? Right around the time its corporate executives were pulling off a massive accounting fraud scheme and pocketing millions of off-the-books dollars. Acting with integrity isn't quite how I would describe their behavior.
Simply stating a corporate "core value" or mission statement doesn't make it authentic. In this world of heightened scrutiny and open connectivity, the culture we present to our employees—and to the world—must reflect the values we're truly living.
We manage what we measure.
As leaders, we might care deeply about employee engagement, but we can't implement a culture of engagement by ourselves. Without a strategy for scaling it across the business, it's tough to move the needle.
I've learned this as my own organization has grown. Back when we were a team of five, I could hold myself personally accountable for each employee's experience and cater the culture to suit individual needs. But as our numbers grew and more organizational layers were added, I realized the best thing we could do for our employees was to focus on the two or three actions that would have the greatest impact on everyone—and hold our team leaders accountable as owners of those initiatives.
Determining what areas to focus on requires more than gut feelings. Measuring engagement and getting real data provides a baseline to measure against. As Microsoft founder and philanthropist Bill Gates writes, "In my experience, the management slogan 'What gets measured gets done' holds true. The mere act of tracking key indicators makes it much more likely that changes in those indicators will be positive."
I've talked to many leaders who've tried to do anything and everything to improve engagement. And while some have improved engagement with the "10 darts thrown blindly at the wall to see what sticks" approach, the problem becomes knowing which initiatives led to the change (and should be protected and enhanced) and which were ineffective (and should be scrapped or iterated). Making incremental changes based on data-sourced, strategic problem areas and measuring them over time is much more effective.
Let me simplify this process in five basic steps:
1. Measure employee sentiment and get baseline engagement data.
2. Follow up by collecting specific feedback from employees around areas of concern or specific engagement blockers they're experiencing.
3. Pick two to three initiatives to focus on for one full quarter. (Sometimes it's best to focus on low-hanging fruit first to get some early wins and momentum.)
4. Hold leadership and management teams accountable for executing on those initiatives and communicating them with their teams.
5. Measure employee engagement again—using the same method—at the end of the quarter to see how those actions affected engagement levels.
Repeating this process every quarter or every six months allows you to continuously and strategically chip away at the larger goal of creating a culture of high employee engagement. And each time action is taken on employee feedback, employees see that their leaders are listening to them and will be more likely to provide useful feedback in the future.
When data-driven insights turn into well-communicated actions, it's possible for an organization to experience sustained, high participation from employees—upwards of 90 percent participation and above.
People success is the new leadership frontier.
Using an employee-engagement metric as one of the key performance indicators by which managers will be evaluated can be a great motivator. Consider tying bonuses or incentives to marked improvements in engagement or even giving out a "most improved engagement" award to the leader of the team that makes the biggest improvement each quarter.
Any investments made into building a more engaged culture will almost certainly pay back in spades. At the end of the day, we're all in the people business (at least until the robots take over).
Other than inherently caring about employees' well-being, every company has a specific business reason for wanting to create an engaging work culture. For a fast-growing B2B company like mine, employee engagement is critical to providing relentless innovation and impeccable customer experience. For a hospital or nursing home, the reason for an engaged culture might be to improve patient care and outcomes; for a construction company, it could be to improve safety and recruit enough skilled talent to perform skilled work.
Whatever the motivations for each leader in each business, every real step taken toward a more engaged workforce makes a difference—and should be measured and celebrated.•
__________
Jaramillo is co-founder and CEO of Emplify.
 
Please enable JavaScript to view this content.