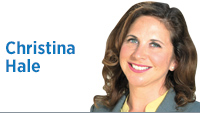 That said, it is also true that sexuality is often clouded with situations of ambiguity, pressure and power. Recently, our sitting attorney general, Curtis Hill, was accused of inappropriately approaching several women and groping others.
The legal definitions of rape, sexual assault and sexual abuse vary from state to state; although the issue of consent is at the heart of determining if an act is criminal in nature. Yet we have no single legal definition of consent in the United States. That needs to change.
The definition of rape changed in Indiana as recently as 2014. Until that time, rape could occur only between a biological female and male. The law now acknowledges that a person commits a sex crime if the victim is "compelled by force or imminent threat of force," is "unaware that the sexual intercourse or other sexual conduct is occurring," or "is so mentally disabled or deficient that consent to sexual intercourse or other sexual conduct cannot be given." But that hardly covers the very gray situations that happen every day in bars like A.J.'s in downtown Indianapolis.
If you reach under a woman's clothing to grab her buttocks in a bar, you'd better have crystal-clear permission. That is hardly controversial.
But if we defined consent in the law, adults and young people alike would have a much better idea of what is acceptable behavior and what can quickly escalate from flirting to crime.
In a state where one in six girls will be assaulted by the time she leaves high school, and in a state where more than a few formerly respected teachers, coaches, elected officeholders and even parents—people who should most definitely know better—cross such lines year after year, there is an urgent need for clarity.
Indiana can't wait for Congress to act. Protecting people, particularly the vulnerable, from sexual violence and harassment clearly is not a priority in Washington these days.
"No means no" campaigns have not and cannot be effective enough. They don't cover ambiguous dating or flirting situations that happen on campuses, at work, on social media or in back seats or bars. Consent must be clearly stated or expressed, soberly and enthusiastically.
Many people have forgiven our president for his comments regarding the power of his fame when approaching women. "I better use some Tic Tacs just in case I start kissing her," he said. "You know, I'm automatically attracted to beautiful; I just start kissing them. … It's like a magnet. Just kiss. I don't even wait." You know the rest.
How many other empowered adults, or just adults feeling empowered, might share this attitude?
Reasonable adults know what happens when you combine this kind of attitude with alcohol in social settings after midnight. One long-overdue recourse to push back on such attitudes is with a legal definition that should help everybody better navigate life and prevent transgressions and even crimes.
Every person has a right to personal sovereignty, and consent should never be assumed or taken for granted for many reasons, but most of all because the consequences can be so dire for those involved.
If the Indiana General Assembly truly does intend to step up its game to battle these issues, as many of its empowered elected leaders have claimed, defining consent in law would be one firm step forward toward a state and country free of sexual assault and harassment.•
Click here for more Forefront columns.
__________
Hale is a former member of the Indiana House and ran for lieutenant governor in 2016 on the Democratic ticket. Send comments to ibjedit@ibj.com.
Please enable JavaScript to view this content.