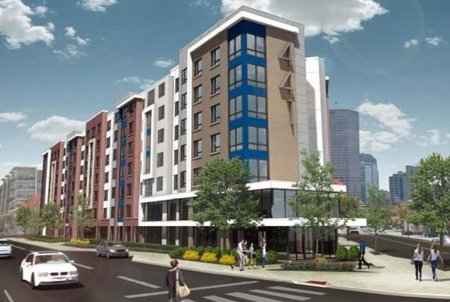 Haven Campus Communities, an Atlanta-based development firm, received approval from the Metropolitan Development Commission this week to build a seven-story student housing complex downtown near IUPUI.
The development, proposed for a triangular parcel at 441 N. Indiana Ave.that's currently a surface parking lot, has been targeted by student housing developers in the past.
In 2016, Landmark Properties proposed a 12-story, 290,000-square-foot student residence complex to fill the property. But construction never started, largely due to concerns regarding the building's height.
Haven's plan called for a smaller structure. It would include 172 units, 618 beds, a two-level, 163-space parking garage and retail spaces, among other elements.
Haven has developed or owned off-campus student housing properties in Georgia, Texas, Arkansas, Mississippi, Florida and North Carolina.
Collingswood, New Jersey-based Kitchen & Associates will oversee architectural plans for the project. The firm has designed at least 27 student housing projects across multiple states.
Mark Beebe, an Indianapolis architect not associated with the project, reviewed the original plans on behalf of the commission. Haven revised the plan using his suggestions. 
Beebe noted in his review that the parking garage, as originally designed, would have hindered pedestrian access to the building. The area where the garage touches Indiana Avenue would have been most affected, he added.
Otherwise, Beebe's critique detailed cosmetic improvements to the design, such as using more brick in the construction and reducing the number of colors on the exterior from three to two.
Andrea Watts, chief communications officer for the Department of Metropolitan Development, said Haven's revised plan allows for greater width on the sidewalk along Indiana Avenue and the complex parking garage.
The property had been owned by Indianapolis-based OneAmerica for more than a decade when the insurer sold it to local developer Flaherty & Collins in 2008. Flaherty & Collins ultimately decided not to pursue a project there.
Please enable JavaScript to view this content.