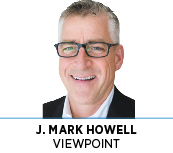 In Indiana, we make and move the things that make the world better.
We produce pharmaceuticals and medical devices that save and improve lives. We produce and distribute food grown in our state to feed the world. We drive mobility by building more than 10 percent of all motor vehicles produced in the United States. We manufacture aircraft engines for airlines and the military and produce power systems for commercial vehicles, maritime and rail. Indiana advanced-manufacturing and logistics industries are critical to the way the world lives, moves, produces and innovates.
And we truly are the "Crossroads of America," with more pass-through highways than any other state and more than $650 billion worth of goods passing through Indiana annually. We also benefit from foresight in public policy, which continually results in rankings of our regulatory environment as best and least burdensome.
But while Indiana is an undisputed leader in making and moving goods, technology is rapidly disrupting these industries. Recently, more than 500 Hoosier leaders gathered for a conversation surrounding emerging transportation megatrends and their impact on our innovation economy. A key theme of the discussion was that we must embrace the technology transition these key industries face, and not fall victim to it. From the impact of smart automobile technology and autonomous vehicles to electrification and a connected grid, we stand poised to benefit from tremendous positive momentum.
However, we need Hoosiers to embrace these changes and be forward-looking by not fearing the new but seizing the opportunities these advances can bring. With support from the residents of our state, our legislators will have the motivation to prepare for the future with research and infrastructure upgrades now. Despite the concerns many have that these new technologies will cost us jobs, Indiana companies are becoming more competitive with these technologies and need hard-working Hoosiers to succeed.
The recently released 2018 Manufacturing and Logistics Report Card by the Ball State University Center for Business and Economic Research and Conexus Indiana revealed that our manufacturing industry is experiencing the longest uninterrupted expansion of employment in a half century and the logistics industry is tied for the second-longest expansion in the same time period. These expansions create good-paying jobs for Hoosiers.
However, we cannot be complacent. Leadership positions must be continually earned. Areas of risk must be recognized and addressed. Indiana's grade slipped from a B to a C in productivity and innovation, caused by an expanding economy and a tight labor force. Any retreat in this area cannot be ignored or rationalized.
As our state faces this inflection point, so, too, does Conexus Indiana. As part of the Central Indiana Corporate Partnership, an effort dedicated to the region's continued prosperity and growth, Conexus Indiana's mission is to accelerate, promote and grow Indiana's advanced-manufacturing and logistics economy by leading innovative collaborations among industry, academic and public-sector partners. This year, we are undergoing a strategic planning process to ensure that we direct our attention and resources to the areas where we can offer our industries and Hoosiers the most impactful support possible to face these changes.
We are meeting with stakeholders around the state and engaging in design-thinking workshops to elicit wide-ranging perspectives and feedback. A survey we are conducting is one of the many steps we are taking to hear from as many interested Hoosiers as possible.
Please take five minutes to participate in this survey, which you can find at our website, ConexusIndiana.com. Your participation will help Conexus Indiana and our state's leading industries take the right steps now to continue our leadership.•
__________
Howell is president and CEO of Conexus Indiana.