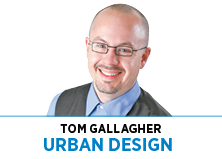 Electric scooters—and the regulatory dilemma they're causing here and across the country—raise a question hanging over cities and towns everywhere. Who owns the streets?
It's a question as old as cities themselves, but today, with the accelerated deployment of new and often untested technologies, the battle over our streets is reaching a fever pitch.
Green spaces, pedestrian ways and outdoor cafes are essential ingredients for successful street life. On-street parking, bus stops and delivery loading zones already compete for space at the curb. Add a food truck, a bike lane and ride-sharing services and it gets more complicated. All of this is on top of personal vehicles that are constantly picking up, dropping off or making a delivery. Now we have shared, motorized scooters, too.
Consider this quote from the New York Times: "The modern street calls for an entirely new set of habits and a kind of alertness and precaution which we did not even dream of 20 years ago."
True as it is, this sentiment is not a response to the recent deluge of scooter traffic. It's from a 1924 article decrying automobiles as menaces. Back then, the streets were dominated by pedestrians, bicycles and horse-drawn carriages, all moving at a pace that allowed them to coexist. Cars were the newcomers, and though their drivers had no intention of killing people, pedestrians were dying just the same. We all live with the results of what happened next, which was to create streets that were unsafe for all but the automobile.
It has taken nearly a century for us to remember that streets are so much more than conduits for cars and trucks. We are beginning to see designs that seek to tame the car, but the rules are still auto-centric and so regimented that they divide us into tribes—drivers versus cyclists versus pedestrians.
The new scooters, however, don't fit cleanly into any of those categories. They don't seem entirely street-safe, but they move along with such a speed that their use on sidewalks is questionable. Certainly, the stories from other cities and ours already sound grim. A scooter colliding with a pedestrian with little more than an "oops" as they motor on. A scooter encounter with a pothole leaving the rider broken and bloody. Nonetheless, creating a scooter lane and further dividing us hardly seems the answer.
It's hard to know if the shared-economy companies that provide the scooters need to be throttled or embraced. We can debate if they are a sustainable solution for the first- and last-mile transportation dilemma or just another way for people to avoid walking. In any case, they have reasonable utility, have an attractive "fun factor," and are available to anyone capable of downloading the app. Predictably, people have quickly taken to them.
Those searching for the proper regulatory framework should remember that complexity is part of the beauty of urban living. When we try to design or regulate our way around that complexity, we risk losing the spontaneity of street life, which has always tended to be unruly and messy.
Consider Monument Circle, a vibrant hub of activity. Cars, buses, bicycles, pedestrians and horse-drawn carriages seamlessly interweave their patterns in an unspoken choreography. All of this works without one traffic sign, signal, painted line or arrow on the street. It works because the place asks—demands—that people interact with one another. Its design offers clues to appropriate behavior. Without signs and machines doing the thinking for us, Monument Circle slows us down. The driver of a car must meet the eye of the pedestrians nearing the intersection to understand their intentions. Likewise, pedestrians and cyclists are forced to slow down and consider their next move.
Legislation addressing electric scooters is inevitable—maybe even necessary. However, we should take the opportunity to look beyond the immediate and create a comprehensive mobility strategy that establishes the principles we will hold to, such as equity, livability and sustainability. The future will need resilient streets that can change their personality as users' needs change throughout the day. In the meantime, there is no substitute for personal responsibility and a sense of social etiquette as we use our streets.
Who owns streets? We all do. At their best, cities are a beautiful mosaic of cultures and ideas, great and small. Our best chance for long-term success is not to choose sides but to find balance.
Be good to one another and, please, wear a helmet.•
__________
Gallagher is a principal and urban designer with Ratio and a professor-in-practice of urban design at Ball State University. Send correspondence to TGallagher@ratiodesign.com.
Please enable JavaScript to view this content.