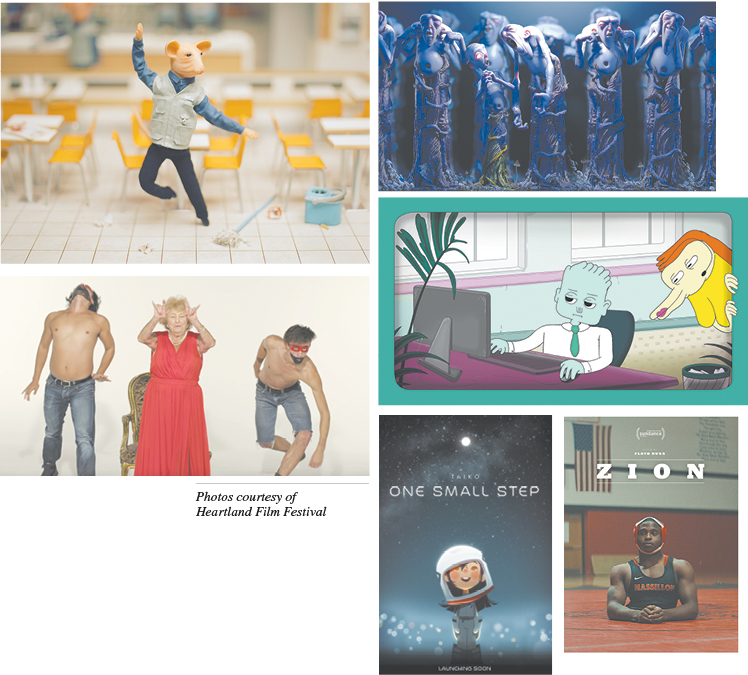 Not long ago, short films were rarely seen by the general public (if you don't count Three Stooges shorts and Bugs Bunny cartoons).
But thanks to YouTube and social media platforms, we're becoming more accustomed to short-form cinematic storytelling. That could indicate good timing on the part of the Heartland Film Festival, which launches the first Indy Shorts International Film Festival July 26-29 at the Indianapolis Museum of Art at Newfields.
Two separate programs will feature the top five selections in documentary, narrative and animation, with additional programs dedicated to Indiana filmmakers, high school works, comedy and more. Workshops and panels will also dot the schedule, as well as a Shorts & Sips event complete with pastries and mimosas.
In addition to reaching audiences here and competing for $25,000 in prize money, winners of the fest will also get a boost in October, when they will be screened again at the Heartland Film Festival.
Winning in the documentary or short-film categories also qualifies a film for Academy Award consideration.
Of course, one of the challenges for audiences is that short films rarely come with high-profile resumes. They aren't marketed aggressively and they aren't loaded with stars.
So how do you choose what to see if you aren't going to see them all?
IBJ screened many of the films to offer some recommendations for places to start.
◗ "The Burden" opens with bathrobed fish in a nondescript hotel singing about reasons for being alone. From there, the film follows a pair of rats who distract themselves from their clean-up job at a fast food restaurant by tap dancing, and then, well, you'll have to see this one for yourself. Suffice to say it's unique and knows exactly how long it can sustain its melancholy mood.
◗ "Death Metal Grandma" might sound like a gimmick. But attention should be paid to an escapee from the Holocaust who penned the hit "Try Again" for Dean Martin before having a go rapping on televised music showcases. One might hope for a different ending, but real life doesn't always deliver. This one satisfies in its own realistic way.
◗ The wordless, animated father-daughter story "One Small Step" focuses on a would-be astronaut and her dedicated father. Packed with heartbreak and inspiration, it's set to a soundtrack featuring Steve Horner's heartstring-playing music.
◗ "I'm not gonna lie. I wasn't a good kid," says the title young man in the documentary "Zion." Born with no legs and in and out of multiple foster homes where he faced abuse, Zion Clark somehow found the strength to thrive thanks in large part to being a part of his high school wrestling team. To its credit, the film doesn't paint him as perfect and there's no Hollywood sports-film ending here.
◗ Odd creatures also populate "The Box" and one doesn't quite fit in with his elders in this remarkably lit, creepy animated study of conformity. Literally, this one is about thinking outside the box.
◗ After watching the bizarre animated "Opening Night," you might have a baffled look on your face. But there's a good chance that, on the way home, you'll find yourself singing, "Thank you for letting me know how you feel/Thank you for letting me know … ."
◗ For some quick perspective—animation-style—try "The Secret History of Muslims," which pairs a comic with a Barnard College historian for a breezy chat covering subjects from Thomas Jefferson to Chobani yogurt.
◗ An impending presidential visit to a small-time Lebanese soap manufacturer transforms a town in "The President's Visit," which recalls such quirky films as Bill Forsyth's "Local Hero" and the Ealing Studios comedies of the 1940s and 1950s ("Whisky Galore!" anyone?) while finding its own unique rhythms.•
Please enable JavaScript to view this content.