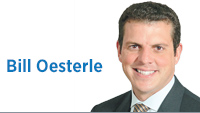 I was returning home on Interstate 70 recently when I exited north on Keystone Avenue. This exit is important as it is the marked exit for the Indiana State Fairgrounds. I am guessing it receives disproportionate out-of-town traffic in the form of visitors to the fairgrounds, Indianapolis Museum of Art, Keystone Avenue, etc. It is a main east gateway to Indianapolis and a place where a good first impression would come in handy.
Unfortunately, it's not that. This particular exit, through some unintended consequence of freeway design, has become a repository for discarded plastic bags. They seem to be everywhere on this corner. The otherwise pleasant trees to the north serve as a kind of wind gate for all the plastic bags from downtown, or somewhere. This time of year, the weeds and bushes provide a small measure of cover, but in the winter the trees resemble garbage-dump fencing.
The problem is not isolated. A few years back, the city attempted to spruce up central 38th Street by planting rose bushes along the north and south sides. It was great, except for the fact that roses have thorns. Thorns are particularly good at capturing plastic bags. Before long, the rose bushes were entangled and, in frustration, the city removed every one.
I think we can all agree this is not the best way to show off Indianapolis to visitors. So what might we do? We could follow the city's lead and rip out any pesky bag-catching bushes or trees. Or, perhaps we could get INDOT to build 30-foot walls around the exit and up the corridor like it is proposing to do all over downtown.
There are lots of expensive and indirect methods to address plastic-bag problems. Unfortunately, we have to resort to expensive and indirect because the easy solutions are illegal in Indiana. That's right, illegal.
In 2016, state Rep. Ron Bacon of Evansville authored a bill that outlaws local government's authority to ban, tax or otherwise restrict the use of plastic bags by retailers. The bill passed both the House and Senate and was signed into law by then-Gov. Mike Pence.
Seriously, protections for plastic bags. How does this happen? If there were ever an issue that called for local control, it was this one. If Little Town A loves plastic bags and likes them blowing all over the place, more power to it. If, on the other hand, Little Town B doesn't like plastic bags stuck in its rose bushes, it can tax them and pay someone to pick them up.
This is how democracy is supposed to work. Local control allows governments to be the laboratory where ideas are conceived and experiments are tested. This is Ronald Reagan's New Federalism applied to cities. Reagan's "devolution revolution" is a really powerful idea. Unfortunately, the Indiana Legislature doesn't buy it.
In fact, it's not just plastic bags. The Legislature has developed a disturbing appetite for restricting all kinds of local-government actions. In recent years, lawmakers have restricted local control on everything from vacation rentals to cell towers.
Once, a prominent legislator told me he opposed "special rights" for gay people. You know, like the "special right" to not lose your job because you are gay. I looked up his vote on plastic bags. You guessed it; he supported "special rights" for plastic bags.•
Click here for more Forefront columns.


__________
Oesterle is the CEO at Tmap LLC. He managed Republican Mitch Daniels first run for governor. Send comments to ibjedit@ibj.com.