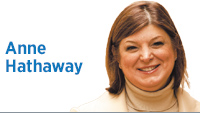 One of my all-time favorite annual events, the Indiana State Fair, kicks off Aug. 3.
The Indiana State Fair website says it best: "… a gathering place for all Hoosiers. A place where rural meets urban. A place where people from all walks of life come together for 17 days every August to celebrate Indiana, learn about Indiana agriculture, be entertained, and eat the amazing 'fair food' … ."
For me, as a 10-year 4-H member, it also brings back strong memories of hard work and discipline preparing 4-H projects and participating in 4-H contests in hopes of winning a blue ribbon!
I am sure when I mention 4-H, thoughts jump to agriculture, farms and farming. But 4-H is so much more, and my participation had a huge impact on my growth and development. In fact, many of the skills I learned through 4-H are those I still use today, and the 4-H pledge still provides a guideline on how to approach life.
The 4-H pledge is pretty simple: "I pledge my head to clearer thinking, my heart to greater loyalty, my hands to larger service, and my health to better living for my club, my community, my country and my world."
4-H is provided via Cooperative Extension through 100-plus public universities. 4-H clubs are found in urban, suburban and rural communities across the country, providing youth the support and guidance of adult mentors and leaders to "complete hands-on projects in areas like health, science, agriculture and citizenship."
Today, more than 6 million young people participate and are supported by more than 500,000 volunteers.
I was raised in 4-H. My mother was a county extension adviser, so there wasn't much discussion about whether I would join. I lived in town, so showing livestock wasn't an option for me, although I helped my friends wash and brush their cattle and horses in preparation for the show ring. My projects included cooking, sewing, baking, woodworking and photography. I participated in public speaking and food-demonstration contests.
The goal of all these projects and contests was to win an opportunity to showcase your skills and talents at the state fair. There is nothing like seeing your project on display with a blue ribbon or perhaps a grand champion rosette attached to know that the hard work and commitment were worth the time and sacrifice.
So when the Indiana State Fair opens, I will be making my loop through the fair with my annual visit to Pioneer Village, the FFA and Farm Bureau exhibits, and of course, trying out all those yummy foods.
But you will also find me in all the barns and in the exhibit halls checking out the 4-H projects and cheering on those kids who are learning hard work, discipline and accomplishment by completing their projects and getting to show at the Indiana State Fair!•
Click here for more Forefront columns.
__________
Hathaway is president and CEO of Hathaway Strategies, chairwoman of the Julian Center board and former chief of staff of the Republican National Committee. Send comments to [email protected]
Please enable JavaScript to view this content.